Why does this site not take up rectification of birth time?
Time of birth is a very important factor in constructing a birth chart. It needs to be accurate as error of few minutes in recording the birth time changes the divisional charts. Few questions each individual has for himself is about life, health, family life and vocation. These factors, while being determined from rashi must be seen from their respective divisional charts as well. For example, as per the classical texts in astrology and rightly corroborated by my experience, breaks in job are seen from 8th and 12th in the dashansha divisional chart, also noted as D10. This chart changes lagna in approximately +/- 5 minutes of birth. Hence, if we do not know the right planets and lords associated with 8th house in dashamsha, we will not be able to predict layoffs, resignations, company closures, etc.
People turn towards doctors and astrologers only when they are facing problems. They go with symptoms, expect the symptoms to reveal the real root cause of the problem and then expect the problem to be resolved through various means. In case of astrologers, these remedies are expected to be mantras, tantras and ratnas. While correct diagnosis of disease by a doctor leads to a line of treatment, the root cause identified by an astrologer may not lead to a sure shot remedy. Like viral fever, the problems indicated by a horoscope must run its course. Its a problem with Karma, that you are going through a problem at this point must indicate that something from the past life or this life itself is being repaid.
There is another article on this website about planetary combinations for astrologers. This article is more matter of fact. Yes, Jupiter, Mercury, 2nd house for vaksidhi are important, but we all are looking for astrologers whose advice really resonates with us and who are able to show a path forward.
What appears below is a part of a developing thought process. It is my humble opinion that when a good astrologer is trying to solve others' problems, the corresponding houses of obstacles, viz., 6th, 8th and 12th must be strong in the astrologer's own horoscope. This gives them the ability to absorb confusion from other people's mind and provide clarity and light.
In helping others in this birth, astrologers should be seen as paying off the debt that they accumulated in previous janmas when others would have helped their soul navigate through obstacles, diseases and a sense of utter helplessness. The debt is always indicated by 6th house. Those with 6th house associated with artha-trikona deal with loans and debts. 8th house is about inheritance, the "past karma" that allows such karma to be delivered in this life. 12th house is about long term diseases, hospitalization, banishment and death and decay. Managing disputes, dwelling into the mystical and unknown hence is the unraveling of karma of an astrologer.
Higher knowledge can come only from these dusthana houses because that's the deeper meaning of dusthana houses.
Lets take an example. I quote Shri Bepin Behari where he says:
Though the twelfth house is popularly understood as house of death, its variously appellations are not merely synonyms of death. They refer to the process by which the journey of the individual from birth to death is undertaken and different experiences are gained.
Now, as an astrologer navigates through his own life, he needs to learn from experience of people who come to him for advice, internalize these experiences and use them further to hone his advise for other people. Hence, an astrologer must experience others' diseases as his own, others' misfortunes as his own and must die multiple times. Unless he makes these experiences collected from others as his own, he will never be able to relate to his own advice given to other people. In the absense of such experiences, any advice will remain shallow and only in the realm of making money. The depth will always be missing.
In my horoscope, a retrograde Jupiter as lord of 12th in 12th is exactly opposite Mercury as lord of 6th located in 6th itself. I have always been fascinated by the 6th house and its effect on human life. I read up more about 6th house than any other house in horoscope.
I invite other astrologers to share their horoscopes on this forum in comments or on the facebook page and their fascinations in astrology. Please note that this invitation is about sharing the knowledge of dusthana houses and its applicability towards an astrologer's horoscope. This is not for checking one horoscope for potential to become an astrologer.
It is always interesting to see how some of the bureaucrats who are born in last week of October when Sun is in debilitation/neecha. I picked up this from Times of India who mentioned that Urjit Patel who will be 53 years old on 28th October is picked up as RBI governor. I am therefore working with a date of birth of October 28th, 1953. He was born in Kenya and later moved to India and has since taken Indian citizenship. His time of birth is unknown and hence the current article is based on his Moon sign. Continue reading
A very happy festival season to all of you. The festival of Diwali is traditionally a 5 day festival with the following details:
Dhanteras: 9th November 2015
Naraka Chaturdashi: 10th November
Deepavali: 11th November
Govardhan Pooja: 12th November
Bhai Dooj: 13th November.
Diwali Poojan Muhurta
The timing of the Muhurta is specific to Bangalore, India and if you are in any other part of the world, it should be calculated accordingly. However, the rule of the thumb is that Lakshmi pooja can be done after sunset and for period of 2.5 hours. Sunset in Bangalore is at 17.50 hours. The best Vrishabha lagna muhurta is from 18.07 hours to 20.08 hours.
Muhurat Trading on Stock Markets
For the purpose of Muhurta Trading on National & Bombay Stock Exchanges, the following timings are applicable:
Muhurta Trading would be conducted between 1745 hours and 1845 hours on the Diwali day, according to NSE. "…a special live trading session shall be held on Wednesday, November 11, 2015 on account of Muhurat trading on Diwali," NSE said. Similar timings are to be followed by Bombay Stock Exchange as well.
Panchanga for the day in various cities around the world
Date: Wednesday 11th November 2015
Attribute
Bangalore
12°58' N, 77°33' E
San Francisco
37°46' N, 122°25' W
London
51°30' N, 0°7' W
Dubai
25°15' N, 55°16' E
Sydney
35°52' S, 151°13' E
Sunrise
Time
06:16 IST
07:46 PST
07:12 GMT
06:33 GST
05:42 AEST
Sunset
Time
17:50 IST
18:01 PST
16:17 GMT
17:32 GST
19:36 AEST
Tithi
Time
Amavasya at 00:00 IST
Prathama starts 23:31 IST
Amavasya at 00:00 PST
Prathama starts 11:01 PST
Amavasya at 00:00 GMT
Prathama starts 18:01 GMT
Amavasya at 00:00 GST
Prathama starts 22:01 GST
Chaturdashi at 00:00 AEST
Amavasya starts 03:12 AEST
Paksha
Time
Krishna Paksha at 00:00 IST
Shukla Paksha starts 23:31 IST
Krishna Paksha at 00:00 PST
Shukla Paksha starts 11:01 PST
Krishna Paksha at 00:00 GMT
Shukla Paksha starts 18:01 GMT
Krishna Paksha at 00:00 GST
Shukla Paksha starts 22:01 GST
Krishna Paksha at 00:00 AEST
Nakshatra
Time
Swati at 00:00 IST
Vishakha starts 13:48 IST
Swati at 00:00 PST
Vishakha starts 01:18 PST
Swati at 00:00 GMT
Vishakha starts 08:18 GMT
Swati at 00:00 GST
Vishakha starts 12:18 GST
Swati at 00:00 AEST
Vishakha starts 19:18 AEST
Karana
Time
Chatushpad at 00:00 IST
Naga starts 10:40 IST
Kintughna starts 23:31 IST
Naga at 00:00 PST
Kintughna starts 11:01 PST
Bav starts 23:46 PST
Chatushpad at 00:00 GMT
Naga starts 05:10 GMT
Kintughna starts 18:01 GMT
Chatushpad at 00:00 GST
Naga starts 09:10 GST
Kintughna starts 22:01 GST
Shakuni at 00:00 AEST
Chatushpad starts 03:12 AEST
Naga starts 16:10 AEST
Yoga
Time
Ayushman at 00:00 IST
Saubhagya starts 05:31 IST
Saubhagya at 00:00 PST
Shobhan starts 17:14 PST
Ayushman at 00:00 GMT
Saubhagya starts 00:01 GMT
Ayushman at 00:00 GST
Saubhagya starts 04:01 GST
Ayushman at 00:00 AEST
Saubhagya starts 11:01 AEST
Comments:

Vrishabha Lagna should be calculated on these days
&nbsp
&nbsp
Mars is considered a malefic, kroora planet in Vedic Astrology. The effect of Mars in a horoscope results in aggressive tendencies brought to fore and to whatever is the area of life affected by Mars – through aspect/drishti or location. As noted in the article on Mars as a planet, Mars is the senapati of the army and goes about doing his work with ruthless efficiency. Mars is not a planner, but a doer and hence indicates engineering precision rather than advisory role. Mars is also fast and hence automobiles, bullets are indicated by Mars in Vedic Astrology.
The position of Mars causes lot of debate in the horoscope. An adverse position is Manglik Dosha, which (in layman terms) is said to wreak marriages and is considered by many to be a dreaded combination where it may not be a cause of concern.
This is a very frequent question on the mind of an astrologer as to what should be the main reference of the predictions while examining a horoscope. Astrologers frequently struggle with this problem. However, as they mature, they realize the answer to the this main question is – BOTH!
Both ascendant and moon as as important to horoscope judgement as are day and night to a day and head and tails on a coin. One is incomplete without the other. Sun makes it a triad, but in this article, we will limit our discussion to Ascendant and Moon.
Before starting to judge the horoscope, it is important to understand what Ascendant & Moon stand for in the horoscope. Ascendant is the first house and stands for the general strength of the chart. It symbolizes fame, success, status in the society. On the health front, it denotes physical strength, constitution – robust or sickly, appearance, vigour and energy. Being the first house, ascendant is indicative of head and brain. On the other hand, Moon as a planet indicates mind, emotions and feeling. A person's personality type is governed by Moon in a horoscope.  In a horoscope, diseases of the mind, i.e, psychological disorders are usually diagnosed by looking at Moon's position.
With the technology on the verge of taking us to Mars in just a matter of decades, there is a distinct possibility that there can be children born on another planet. A equal possibility is a moon base where human being could settle in near future. This will blow all astrology out of the window as far as horoscopes and birth charts are concerned.
The way to construct the horoscope would not change at all. If we move from Earth to Moon or Mars, the nakshatras and others signs in the zodiac will not change much since the distance from Earth to these planets is much much less than compared to the distance to the stars in the Zodiac.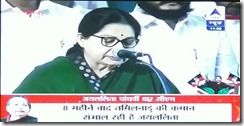 The swearing in chart of J. Jayalalithaa as Chief Minister of Tamil Nadu is presented here. The ceremony was conducted in Madras University auditorium on 23rd May 2015 at 11.08 AM. According to popular belief, Jayalalithaa is understood to be a very keen follower of Astrology and does not even step outside of her house without consulting an astrologer. Today too, the ceremony was carefully orchestrated and she did not leave home before Rahu Kalam was over. The time is ascertained as per this TV grab. The choice of the time is also very much vetted by an astrologer. The two other high profile swearing ins – Mr. Kejariwal in Delhi & Mr. Sayeed in Srinagar were Vrishabha Lagna, but like Mr. Nitish Kumar in Patna, Jayalalithaa's astrologers chose a Cancer Lagna swearing in, with Jupiter exactly coinciding with Ascendant degrees.
This article describes how to use natural properties of planets in interpreting a horoscope and making predictions. Each of the planets in Vedic Astrology is described as having certain set of properties as described in these pages in detail.
Sun is regal planet that denotes authority and represents government. Moon is emotional by itself and is mindful of others' emotions. Jupiter is worldly wise. Venus is classy, while Mars is aggressive. Mercury is a great communicator and represents fast thinking. Rahu is secretive and duplicitous and Ketu is chaotic. Saturn is a strict disciplinarian. These set of qualities must be kept in mind when interpreting a horoscope, even when looking at similar placements.
The elections for the state of Jammu & Kashmir in India were held from November 25, 2014 to December 20, 2014. This was a very peaceful and successful election which saw the populace of J&K come out in large numbers and embrace democracy. The overall voter turnout was 65.23%, which is absolutely unprecedented. Even the area of Kashmir valley, which is indifferent and aloof to the democratic process due to insurgency saw a turnout of almost 59%.
The aspirations of the people were put of hold for a little while because no party got absolute majority. The state was put under the central administration subsequently.