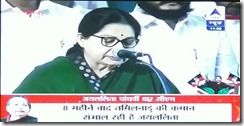 The swearing in chart of J. Jayalalithaa as Chief Minister of Tamil Nadu is presented here. The ceremony was conducted in Madras University auditorium on 23rd May 2015 at 11.08 AM. According to popular belief, Jayalalithaa is understood to be a very keen follower of Astrology and does not even step outside of her house without consulting an astrologer. Today too, the ceremony was carefully orchestrated and she did not leave home before Rahu Kalam was over. The time is ascertained as per this TV grab. The choice of the time is also very much vetted by an astrologer. The two other high profile swearing ins – Mr. Kejariwal in Delhi & Mr. Sayeed in Srinagar were Vrishabha Lagna, but like Mr. Nitish Kumar in Patna, Jayalalithaa's astrologers chose a Cancer Lagna swearing in, with Jupiter exactly coinciding with Ascendant degrees.
The Panchaga of the day is as follows:
1. Vaar: Shanivaar, Saturday
2. Nakshatra: Pushya
3. Karana: Kaulava Karana
4. Yoga: Vriddhi Yoga
5. Tithi: Shukha paksha, Panchami
Panchanga is perfect. It has no dosha. Nothing can be said about the choice of the Panchanga.
The horoscope of the time of swearing in as below: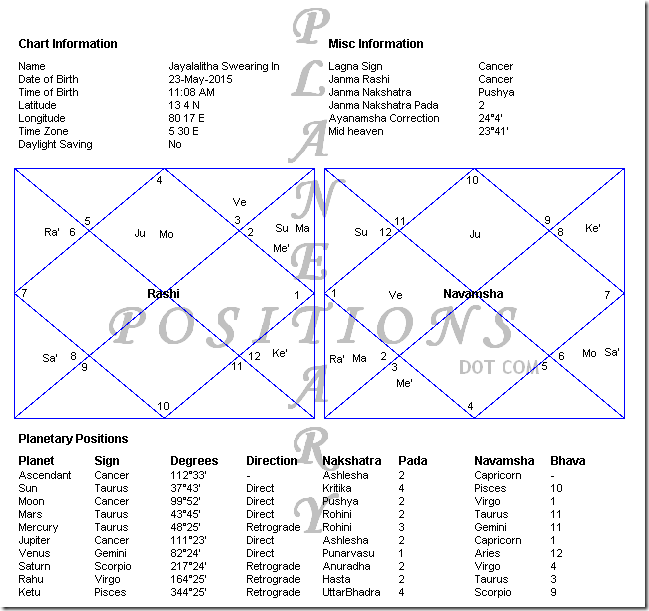 Ascendant is Cancer 112°33' and Jupiter is at 111°23', almost exactly matching with it, which is not a coincident. Perhaps with the ayanamsha chosen by the astrologer, it was exactly at the ascendant. 6th and 8th houses are free, which is how it is supposed to be. 12th is not free, but the planet there is Venus, which does well in 12th house. Lords of 10th & 5th & 2nd are in 11th house – powerful dhana/raja yoga. Saturn in 5th is not good for investment, imagination/creativity and general happiness of the state, but then the lord of 5th is aspecting it, providing the support to counter the effect of 8th Lords position there. Jupiter's 5th house aspect will also help.
The problem is 4th Lord in 12th, which causes separation from masses. Also Jupiter is debilitated in Navamsha, and other divisional charts as well. Thus the seeming strength of the chart definitely goes down because of this problem. Still, other factors are strong.
Overall, the enemies of the CM are still going to hover over her government. It is very much possible that the astrologers will take this into account, look for a much better muhurta and then immediately ask Jayalalithaa to call for an early election.