[Editor: I have moved the queries from comments section to the readers queries. These have been edited to keep some of the sensitive information out]
Comment on December 16, 2014 at 2:49 pm
I have seen your blogs and would like to consult you for our fortune of having kids. We are married for 5 years now and trying to conceive .We are taking treatment and I was pregnant in May 2014 but I had miscarriage at around 9 weeks. Below are our details. Please check our horoscopes and let us know when we will be blessed with kids.
Shri S Sharma has answered two questions posted on Progeny and Vedic Astrology post. I am deleting the comment from there and adding them in the Readers' Queries section. Thanks you Sir for your responses. I sincerely hope it helps the readers of the website.
Question 1 posted by Neha here > http://www.planetarypositions.com/yoga/2009/01/14/progeny-in-vedic-astrology/#comment-16742.
The answer is as follows:
Dear Neha
In your horroscope Jupiter is debilitated and 5th lord Venus is in lagna with debilitated jupiter and afflicted with Sun and aspected by Saturn. 5th lord venus is also combust. In Saptamnsha kundli 5ht lord is in fourth house and lagnesh of saptamsha is in ashtam house. These planetary combinations indicate problems in progeny. Your moon is also afflicted with Saturn and rahu indicating mental tensions and depression problems.
There was a question on 11th house and what is signifies. The question was very specific as to why 11th house in a horoscope is considered inauspicious. Eleventh house is indeed considered to be Labhsthana and its karakatva is indicated by income that we earn through our primary means of livelihood. Tenth house in a horoscope is the place that shows us what we are at our place of work and eleventh being second to 10th indicates the money that comes through it. Naturally, a strong 11th house is very important in the chart as in this material world, making good money through our primary means of employment is as important as the job itself.
Among the subjects that we look for from 11th house in a kundali, these are the important ones: profit, motivation and wishes, ambition (with a negative connotation), ability to earn money and an egotistical nature. Since the original question was on the benefic and malefic planet article, the following clarification is necessary:
The current post is in response to this comment on the Profession Worries post of the blog. It is written by Bijesh Menon and his contact information is at the end of the blog post.
Dear Rao,
Let me start with a delineation regarding your profession. Your horoscope has several notable positive factors regarding profession though coupled with a few adverse ones too. The position of Jupiter the 9th lord in the 10th house in a friendly sign is good. The Sign lord Mars (the yogakaraka) conjoined with the lagna lord Moon also in mutual exchange of houses with Jupiter is forming Karma Dharmadhipa Yoga an excellent Rajayoga. These factors are indicating growth in career and prosperity to reach a unique position in your profession. Meanwhile the aspect of Saturn (a first rate malefic for your horoscope due to his lordship over the 7th and 8th house) over the 10th house from both Lagna and Moon is indicating the hurdles and obstacles you have to go through in your initial years in career. The retrogression of Saturn will intensify the adverse influence. The Rahu-Ketu axis falling in 4th and 10th houses will keep causing instability in your career due to several changes in job and also change of line in profession.
I was asked to analyse this horoscope by one of the readers and check the possibility of marriage in the kundali. Please allow me to share my analysis.
Looking at the overall strength of the chart, it is noticeable that the lagna is Simha (Leo) and its lord is located in 3rd house in Tula (Libra). Sun is debilitated in Libra and hence is weak. It does not get neechabhanga. The lagna is aspected by Saturn, which is in 4th house and has a 10th house aspect on the lagna. Given that Saturn is not a benefic planet for Leo ascendant, it is not a good aspect. Both of these factors weaken the lagna and bring the overall strength of the chart down. This is not directly attributable to the marriage timing, but is worth noting. It would be extremely worthwhile to strengthen the lagna and Sun by following the remedial measures in this post.
There was a question on horoscope compatibility here, where there was an issue with the horoscope matching software.
There seems to be a problem in Horoscope matching . I entered the following details:

Bride: Gurkirat | DOB: 10-2-1994 | HH:18 MM:54 | |TZ: 5-30E | Saving: No | Lat: 30-56N | Long: 76-46E | Charttype: North Indian
Groom: Himanshu | DOB: 3-5-1981 | HH:18 MM:54 | |TZ: 5-30E | Saving: No | Lat: 30-56N | Long: 76-46E| Chart Type: North indian

Now the result shows : 11.5. But when I add the individual guns: it comes out to be 13.
Which also means that Tara element which is not shown comes out to be -1.5.

Its a good site but, you should not put such a buggy software on your application. People are forced to think that their match is not compatible. This is not acceptable.
Referring to this comment on Chart Matching Fundamentals, the rules of Nadi Dosha are revisited:
Nadi Dosha: If there is nadi dosha in the chart, i.e. if the nadis of would be bride and groom are the same, there are two exceptions that exist:
If the same planet is the lord of janma rashi of prospective couple.
If the lord of rashis of bride and groom are friends
Commented by Bijesh Menon
There was a question posed on the post on Saturn affecting professional life. The readers can refer to the detailed question here. The gist of the question is that there are issues on professional life and the gentleman asking the quetion has filed a case against the employer as the employer has blocked salary and benefits.
Bijesh has answered the questions in this post. It was a comment, which I modified into a post.
I checked your horoscope and found that you are going through many adverse planetary influences and together these adverse influences are causing issues in your career. The current dasha of Rahu coupled with the sub period of Sun are adverse for you. Transit of Saturn causes Sade-sathi. This is coupled with Jupiter's transit through the 10th house from natal Lagna and Moon.
We are starting a new section to address queries posted by the readers on the site. This will be captured under this category type "readers' queries" and it will be tracked as one of the most important sections on this website going forward. I will take help from other astrologers to contribute to this section. As an example, I picked up this question from one of the comments:
One of my acquaintances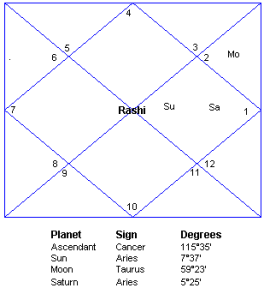 asked me to take a look at his horoscope. I am reproducing it here with only some information due to privacy concerns. I would like to get an opinion from other esteemed astrologers who frequent this website.
Saturn is debilitated in 10th house. It is not getting neechabhanga as it is combust. Moon, although in Taurus, Continue reading