I was asked to analyse this horoscope by one of the readers and check the possibility of marriage in the kundali. Please allow me to share my analysis.
Looking at the overall strength of the chart, it is noticeable that the lagna is Simha (Leo) and its lord is located in 3rd house in Tula (Libra). Sun is debilitated in Libra and hence is weak. It does not get neechabhanga. The lagna is aspected by Saturn, which is in 4th house and has a 10th house aspect on the lagna. Given that Saturn is not a benefic planet for Leo ascendant, it is not a good aspect. Both of these factors weaken the lagna and bring the overall strength of the chart down. This is not directly attributable to the marriage timing, but is worth noting. It would be extremely worthwhile to strengthen the lagna and Sun by following the remedial measures in this post.
Coming to specifics about 7th house and marriage, we can see that Mars is in 2nd house, but since Mars is a yogakaraka for Simha lagna and there is no manglik dosha for Simha, Mars' position in 2nd house in this kundali is not a cause for worry and it does not cause a manglik dosha. On the other hand, location of 4th and 9th house lord in 2nd house in the horoscope is a good combination.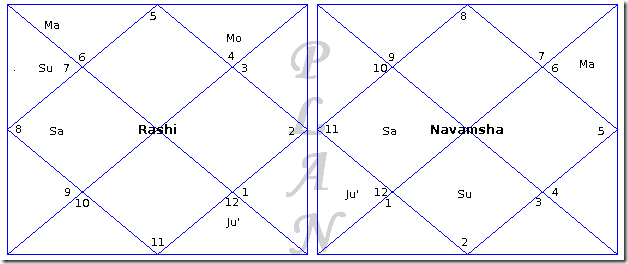 Jupiter is located in 8th house in this horoscope. It has the house ownership of both 5th and 8th houses in this kundali. Therefore, it is neither a benefic or malefic for Simha lagna. Having a 5th house ownership, it still controls the factors of marriage. It also has an influence on Mars in 2nd house. Mars and Jupiter cause a Rajayoga, but since Jupiter is in 8th and blemished by 8th house ownership, this yoga is diminished a bit. Jupiter and Mars are in a similar relationship in navamsha, and are vargottama as well. Strong 4th and 9th houses show that the person has a good parents and is ably supported by them.
7th house Saturn lord is the fourth house, in an enemy house, which is not the best position, but is largely free of other aspects. So is 7th house. This analysis leads me to believe that marriage is not denied in this chart, though it is a little late.
To understand the timing of marriage, the current dasha of Venus/Moon isn't helping for marriage. Transit effect of Jupiter in Cancer will also not help much. Venus/Mars starting Jan 2016 and subsequent two bhuktis will surely help in these regards. In the meantime, the person should go ahead and work on strengthening the lagna and Sun, as described in this link on alternatives to gemstones.
I am in the middle of writing a post that explains how to judge the timing of marriage in a horoscope and will be publishing it within this week. Please stay tuned.