There are many combinations when there are more than four planets in a house in a horoscope. These are very interesting kundalis and are a challenge to interpret. A lot of care must be taken to apply usual rules of combinations of planets as there are many such combinations to consider. Assuming that all the yogas that are indicated by two or three planets taken at a time will be applicable will be a mistake and an astrologer must not base his/her interpretations on them. This is because when we have mutliple planets in one house, the probability of one of them being natural and functional malefic is quite high and as such it taints any good combination. Similarly, a presense of a benefic may improve the situation when many malefics are around, but then the power of the beneficial planet to do good is also reduced and it then becomes an average horoscope at best.
Since the focus in one house, this house will govern the life and actions of the individual and does not create a very balanced personality. The lord of the house in the kundali that houses many planets together is put in a spotlight. If such a lord is strong, it help the other planets. However, if this lord is weak by association of by virtue of location in an unfriendly house/navamsha or is in debilitation, then it has a negative effect on all the other planets also.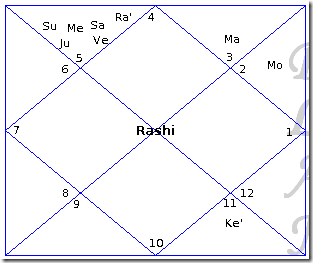 Before we move on to look at various combinations, let's take a look at the chart on the left. There are five planets, besides Rahu in the second house in the kundali. Hence, the focus area is second house and money. Mars, which is a yogakaraka for Karka lagna is in 12th, not helping with expenses and Jupiter, lord of sixth house of debt/loans is in the house of wealth. The chart is strong with rashi kundali's lagna lord in 11th in its moolatrikona sign. The lord of 11th and 4th is in 2nd. Although, in an enemy's house, still it is an average position. The focus of the horoscope is on artha trikona 2nd (money), 6th (debt), 11th (earning capacity) and additionally on 12th (expenses) house. The remedies for such an effort would be strengthen the Moon as the lagna lord and Venus.
Sanyasa-yoga will not come into play as Mercury and Saturn are astangata (combust).
Four Planets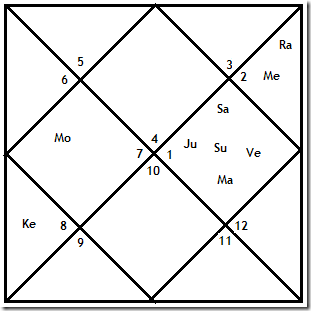 Up to four planets in a chart is common and the combinations can be logically reasoned out. Sun and Moon, along with Mercury do well if the fourth planet is a natural benefic. With a malefic planet, impressionable Mercury becomes benefic and loses the ability to do well, even if it is lord of auspicious houses and in Budhaditya Yoga with Sun. Sun, Moon along with Mars and Saturn is said to be dhana-rahito (without money), gamyah sarvasya in Saravali. Sun, Mercury along with Venus and Jupiter is a great combination to have for wealth, and intelligence. If this happens in a horoscope where all these planets are auspicious, then it is an icing on the cake.
Five & Six planets
Having five and six planets simultaneously is very uncommon. This usually not such a good combination and placement of planets, as you can appreciate from the previous chart. It is better if Sun is not in the same house as the chances of a planet being combust (astangata) is high. Although that is no guarantee as combustion can be across the rashi boundary also, e.g., if Sun in 5° Virgo and Saturn is at 28° Leo, it will still be called combust by some astrologers. Still, absence of Sun from the equation may be taken as a thumb rule as most of the astrologers believe that conjunction of a planet with Sun is a necessary condition for the planet to be combust. Moreover, with all these planets in one house there will be both malefic and beneficial influence mixed up. If benefics are tainted, they will be unable to do good, while the basic tendency of a malefic to do well will not change.
As every rule has exceptions so has this one. This chart on the right is a very special chart. There are 5 planets in the 10th house. Sun is exalted in 10th house. Saturn is in Aries, debilitated, but due to multiple factors gets neechabhanga rajayoga. Rahu/Ketu are exalted. Considering Moon, this is happening on the 7th house which is still a kona. This is a chart of a person who had an illustrious life. Had many followers and was able to shift the course of history by his teachings. His name is Gautama Budhdhha.