Starting Monthly Predictions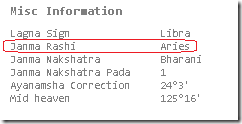 Hello Readers,
In the next few days, I will be posting my first article on monthly predictions. These predictions will be made on the janma rashi or the moon sign. If you do not know your moon sign, please first find it out through the horoscope software application on this page on the website.
Afterwards, the predictions will be presented here.
For adverse transits, the necessary remedies will be detailed in the last part of the monthly articles. Some of the details are already published here in this remedies blog post here.
---
---
Contact Information | Need Help? | Frequently Asked Questions | Astrology Glossary | Sitemap | RSS Feeds

© Copyright 2014-2022, Abhilasha and Kshitij Sharma. All right reserved. Terms of Use.