This article is first in the list of many articles that I would be writing on Yogas – Planetary Combinations. I would basically be publishing online the notes I have made during the ongoing process of learning astrology.
Gaja Kesari Yoga
Gaja Kesari Yoga is caused by Moon and Jupiter coming together in a horoscope by being in Kendras (1st, 4th, 7th, or 10th) from each other.
Why is it called Gaja Kesari yoga?
I do not have a good answer to this question. Jupiter can be compared to a Gaja – big, slow moving, intelligent and looks over all other animals. However, Moon cannot be called as Kesari – it is represented by color white. It is a saumya graha – cannot really be compared to a lion or a tiger. However, this yoga does give the person qualities of a both animals – magnanimous and intelligent as an elephant and majestic as a lion. Such people would earn a lot of name and fame in life.
A quality of generosity would also be associated with them. Some of the coolest politicians of the world have this yoga in their kundalis… Mahatma Gandhi, Kennedy. Both the candidates in US presidential election in 2003 have this yoga. And the latest to join this category is Narendra Modi, who is all but the next Prime Minister of India.
When would this yoga work?
Mathematically, this yoga can appear in horoscope of a lot of people. However, like all other planetary combinations, this yoga also depends on the strength, position and house lordship of the two planets involved – Moon and Jupiter. It also depends on positions of other planets in the horoscope which may be stronger than these planets. The yoga would also be best shown in life if both these planets are in their exaltation sign and are at an angle not just from each other but from Lagna as well. Neechabhanga Chandra and Guru would be considered good. The two planets would need to be benefic in the kundali and suitably disposed to the lord of Lagna as well. They themselves should be free from any negative aspect, particularly Rahu and Saturn should not be associated with Moon.
When would this yoga not work?
This yoga would not work if Jupiter is in retrograde in the horoscope – as benefic planets become considerably weaker when they are retrograde. Moon and Jupiter should not be in neech awastha or in combust state. If that is the case, the effects of this yoga are nullified and the person would lead a fairly ordinary life. There is no exception to this rule that applies to all planetary combinations. The Lagna and Lagna lord would need to be strong for any yoga to work. Lagna and lagna lord are foundation stones of a horoscope. If the foundation is not strong enough, a building cannot be built on top of it.
When would the results show up?
The results would show up in dasha/bhukti periods of Jupiter and Moon and during mahadasha periods of other planets as well if the main dasha lord is favourable to both these planets, otherwise, this yoga would not show up. In short, there is nothing special about this yoga. The above statements are true about other yogas as well.
Points to ponder
Would this yoga work for people with Libra lagna? Prima Facie, Jupiter is not a good planet for a Libra lagna chart. It presides over affairs or 3rd and 6th house. It is not a natural friend of Venus, which is the lagna lord. There seems to be a problem with this logic, and I keep coming back to the chart of Gandhiji, he has a Libra lagna and his success is attributed in a large part to this yoga. How would this work for people with Gemini and Virgo Lagna? For these lagnas, Jupiter is lord of Houses 7th and 10th and Houses 4th and 7th respectively. This would give Kendradhipati dosha to Jupiter. The problem is that I do not have a lot of example charts to discuss this yoga. Searching on the internet for prominent persons from India with GKY in the chart resulted in only one name – Mahatma Gandhi. The next person in the list that got added is Narendra Modi.
Narendra Modi's Janma Kundali
The horoscope of Narendra Modi is shared here, with some analysis on Gaja Kesari Yoga. There are multiple dates floating around in the internet and there are two different kundalis, one with Scorpio and one with Libra. I am reproducing  the one with Scorpio Lagna.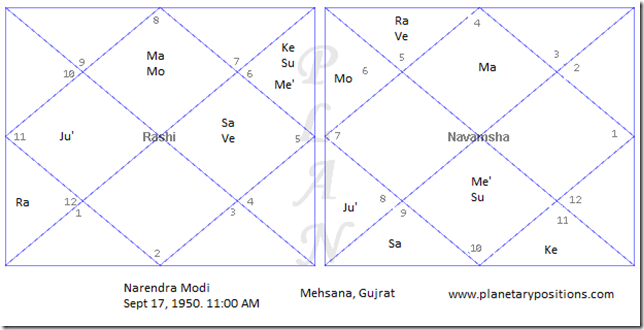 Moon is debilitated in Scorpio in this horoscope. However, it gets Neechabhanga Rajayoga and is good for both Lagna and 9th house. It forms its own raja yoga. Mars' location in Lagna as well as Chandra lagna also results in Ruchaka Yoga in this kundali. Some astrologers may opine that this is not a classical Chandra-Mangala yoga as it is involves a drishti of Mars on Moon from a  kendra, but they have to be in different houses. Mars also has ownership of 6th house and this may also explain why he has so many detractors and is still able to overcome them. No one would have imagined back in 2004 that this gentleman will overcome the blot of 2002 riots and will be the one person around who the politics of India will revolve.
Jupiter, Saturn and Venus are also kendras from Moon and Lagna in this kundali. Lets look at them one by one.
Saturn is in 10th house, but is very close to the end of bhava and is combust, even though Sun seems in Virgo and Saturn in Leo. This does not give any strength of 3rd, 4th houses – very interesting! Still it has aspect from Ma, Ju' and its own lord.
Jupiter forms a Gaja-Kesari yoga, but it does not qualify as a classical yoga based on some of the notes that I wrote up way back in 2006. Still, it is the lord of 2nd and 5th house and is formed in 4th house. This, along with lagna lord drishti is good for 4th house.
Venus is a lord of 7th and 12th houses and is located in 10th house – which is enemy house. It does not qualify as a Rajayoga per se, but is still a good combination.
This also has a Budhaditya Yoga in 11th house that may show how Mr. Modi's campaign had no issues with inflow of funds.
This kundali has extremely strong lagna as well as 9th house. 2nd and 5th house are strong too – which give him the necessary fillip to get into public life and get into a leadership positions. If this is enough to get him to one of the highest public offices in India can only be judged if we have the exact time of birth.
It is my request to people reading this blog that they educate me if they have any more examples to share.
The birthchart application on this site doubles up as Gaja Kesari Yoga calculator.