South Indian Version Kundali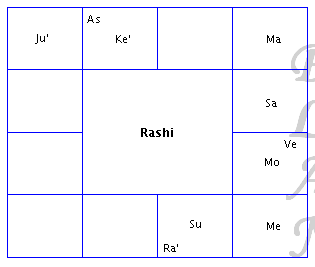 Finally, finally there is a South Indian version of the Kundali. The version of the kundali you would want to display is now taken as an input from right where you enter date/place/time of birth details.
The birth chart image generator is also updated to generate South Indian or North Indian version of the birth chart. What image is being displayed would depend on the choice you made just before clicking the button. Essentially, what you see is what you get… The horoscope compatibility applet also has this option for both prospective groom and bride.
The latest software version is 4.4.0021. If you are still not able to see the choices for chart type, please clean the java cache on your computer. You may be seeing the older version, which is 4.3.0020. I have tested this well, but as always, I request you to let me know of any errors/omissions by way of blog comments or through email. I will fix the errors asap.
---
---
Contact Information | Need Help? | Frequently Asked Questions | Astrology Glossary | Sitemap | RSS Feeds

© Copyright 2014-2022, Abhilasha and Kshitij Sharma. All right reserved. Terms of Use.