This was an interesting cartoon in DNA, Bangalore. Funny in some sense, after the current furor by Supreme Court on pre-marital sex and live-in relationships.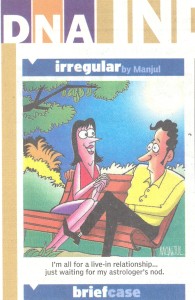 Marriage is defined based on a ceremony, whether it is a ceremony in front of Agni dev, Nikaah in front of a kazi, a church wedding in front of a priest or a court wedding in front of a registrar. The importance of a ceremony is such that in 2002 when I applied for a dependent US visa for my wife, the US consulate insisted on seeing wedding photographs along with the marriage certificate.
A relationship can exist without a ceremony as well – in fact one of the types of wedding defined in Indian culture called Gandharva Vivah, is nothing but a man and woman accepting each other as husband and wife and then going ahead with life.
Without sounding judgmental, I have a very honest and personal advice for folks here: if you are in a committed relationship, please do not look for an astrologer's approval. If you must, please try to get the approval/blessings of your loved ones, which is what a ceremony is anyway.