Tenth house in a horoscope indicates profession and reputation of a person. The kind of work that is undertaken as a vocation, the status gains in society, help from the government of the day (kings in olden times), etc. is seen from the 10th house and the lord of 10th. Apart from the bhava and bhavesh, the following should also be studied as per the karakatva:
Reputation: Significator Sun
Professions and Career: Significator Mercury
Prosperity, growth: Significator Jupiter
Karma, all actions: Significator Saturn
I refer to the analysis by Dr. Sureshchandra Mishra in following two books:
Phal Deepika by Acharya Mantreshwar. chapter 5 – Karmaajevadhyaya.
A similar chapter is given in Jaatak Paarijaat, volume 2 called Karmaaydvadashbhavfaladhyaayah.
These principles are also provided quite neatly in Hora-saara by Shri R. Santanam, Chapter 22 – Livelihood, but there are references to the above two astrological works themselves. Further, the shlokas provide similar indications. Both these books are published by Rajnan Publications and are available on their website.
In order to determine livelihood, vocation, profession, and the area of work, the following are important:
Planets located in 10th house
Planets that are navamsha lord of the 10th lord, as seem from Lagna, Moon, and Sun: For this, note down the 10th Lord from Sun, Moon, and Lagna. Locate these planets in navamsha chart and note down their navamsha lords. These navamsha lords are important.
Nakshatra lord of the 10th house cusp
The high-level choices for a profession based on the key planets are:
Sun: Medicine, medical equipment, general administration, king's work, messenger, various services in government, dealing in gold, precious gems
Moon: Dealing with import/export, travel, professions related to water, ocean products, milk, liquids, artworks, especially made from earth, clothing & textile
Mars: Metals (except iron, which is governed by Saturn), providing security – police, military, etc., income tax, excise, liquids like petrol, petroleum products, chemicals, making money from any type of conflict, sports, etc.
Mercury: Analysis, mathematics, astrology, teaching, literature, communication, marketing, priest, authorship, writing
Jupiter: Banking, advisors, consultants, teaching, finance, legal/judiciary, sales, astrology
Venus: art, entertainment, selling precious and shiny items, dairy, restaurants, banking, vehicles, clothing & textile, etc..
Saturn: General administration – dealing with large number of people, union, construction/infrastructure area, iron ore, mining and cement industry, waste products, leather products, sale of grains
Apart from 10th house, the other houses that are capable of denoting profession are:
2nd and 11th: Both these houses rule earnings. 2nd house is the savings and 11th house is the source of money.
6th house: Although the 6th house is a dusthana, it is an important part of Artha trikon (2-6-10). In today's date and time, when loans and funding are important for bootstrapping a company, 6th house is an important asset. 6th house intimately rules healing and association with people and is important for services industry, e.g., the medical profession, hospitality sector, practice of law, etc.
Lagna: Lagna and lagna lord are the foundation of the chart. A strong lagna lord will imprint the profession as well.
Any of these four categories of planets, if strong and also associated with the 10th house by location or aspect will be able to strongly influence the choice of profession. In addition, the strongest planet in the chart, irrespective of its location will also be able to influence vocation by sheer force. The lord of 10th house is surprisingly not on this list. It can, therefore, be inferred that tenth lord does not directly affect vocation. Instead, 10th lord greatly affects the atmosphere in which a person works. While a different planet, by virtue of navamsha ownership or location may indicate whether a person becomes a doctor, teacher, banker or policeman, the levels achieved in the profession, e.g., high or low status, self-respect, disdain or dishonour will be denoted by the state of 10th house and 10th lord in the horoscope. The planets having drishti/aspect on 10th house contribute to strength or weakness of 10th house. These planets will indicate rise and fall in profession, promotions. However, like the 10th lord, they would not affect the choice of vocation. There always be multiple planets under consideration in the horoscope that would influence the vocation. As you can rightly see, there are three planets that are navamsha lords of 10th lords, given the three tenth lords (one each from Moon, Sun and Lagna). Each of these planets will gain importance during their dasha/bhukti. Needless to say, running dasha/bhukti becomes extremely important. A major change in choice of the profession during a lifetime of an individual is attributed to dasha periods.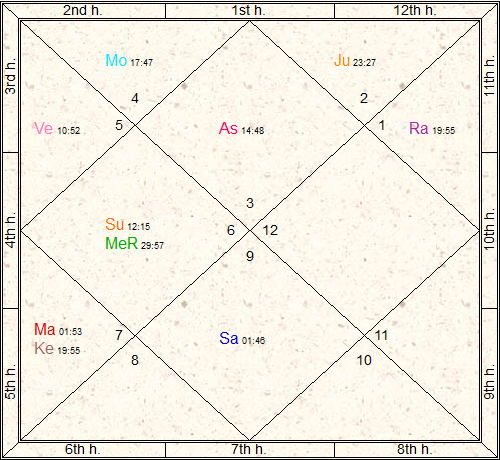 Lata Mangeshkar: 28th Sept 1929, 23:51, Indore
Let's take some examples. In Bharat Ratna Sushree Lata Mangeshkar's chart (Source: Kundali Sangrah, Tendulkar), Gemini is rising & Lagna lord Mercury is in swakshetra in the 4th house. This combination makes her famous and followed by one and all, as 4th house is the house of masses. Still, the Lagna lord is Sandhi and can be considered weaker than Moon. The 2nd lord Moon is in 2nd house of vaksiddhi, which gives her immensely sweet voice. From Moon, the 10th lord is Mars, which is in Venus' navansh, making her an artist. Besides the point, as to why is she unmarried, see the location Jupiter, the lord of 7th from Lagna and Saturn, the lord of 7th from Moon. Saturn is in 7th, which would have caused delays and obstacles whenever she had had thoughts of marriage.
Other professions are also straightforward to predict. I am a software engineer and also an astrologer because my 10th lord is in Mercury's sign of Virgo in navansh. Good doctors are indicated by Sun and a strong 6th or 12th house.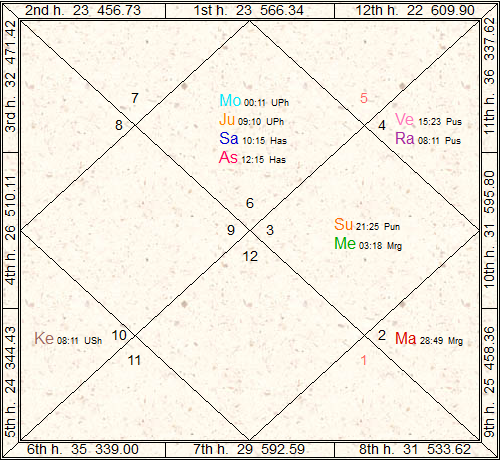 Mahendra Singh Dhoni: 7 July 1981, 11.15, Ranchi
Professions that are not straightforward are sports and politics. Although Mars is the planet for sports, good sportsmen are not guaranteed to have important planets in navansh signs of Mars. Instead, they are seen to have a strong Mars affecting the foundation of the chart and Venus as the planet of entertainment governing their vocation. This is likely because, in today's day and age, sports is also entertainment.
The most notable of such horoscopes is Shri Mahendra Singh Dhoni, who is no doubt a good sportsman. However, his claim to fame was through the T20 world cup and IPL, which should be considered entertainment. There is a great Bhadra Yoga in the horoscope in 10th house and Mercury, the 10th lord is in Venus' navamsha. Mars is 3rd Lord and is aspecting its own house of Parakram from 9th house, which gives Martian hue to his artistry. He is a good businessman, administrator of a sports company and he is an actor working in myriad advertisements. Yes, bottom line is that he is good in sports, but to say that his main vocation is sports would be misleading.
Also, Venus is a planet of grace and style, while Mars stands for competition. I have seen examples where a child was doing well in sports, had amazing grace, concentration and form/style, got good encouraging comments from his/her coach, but did very badly when it came to competition. Venus was strong, Mars was debilitated and the kid did not do well in competitive sports.
There are multiple charts of Bharat Ratna Sachin Tendulkar floating around on the net, which makes it difficult to judge the 10th house. However, irrespective of confusion over his time of birth, his chart is an example of how strong planets fulfill their karakatva and drive the destiny of the individual. It doesn't matter which houses they are located in and which houses they preside over. In Sachin's chart, both Mars and Sun are near the degrees of maximum exaltation – 10°29′ for Sun in Aries and 26°42′ for Mars. He is, therefore, a warrior. Sun's exaltation indicates that he has always had the government and higherups on his side. If he wasn't been a sportsman, he could have been a high ranking general in Indian armed forces.
For politicians, it is not easy to delineate vocation. Politics is public service, while the main vocation for the politicians is something different. I have not taken examples of politicians for this article.