Date Format – Vimshottari Dasha
Dear Blog Readers,
A lot of users of my birth chart application get confused when they see the date format in DD-MM-YY for the Vimshottari Dasha dates, where I display only the last two digits of the year as opposed to displaying the entire string – e.g. 1996 is displayed as 96 and 2004 is displayed as 04. I have been following this convention right from day one as I wanted to save some precious screen real estate. Please take a look at this image and you can see the problem for yourself.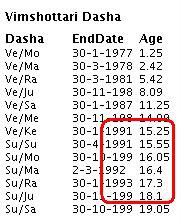 I had assumed people would not get confused and would interpret the date according to what they have entered, but clearly, I was wrong. There was a gentleman who tried to generate a birth chart of a person born in 1896, and his complaint about displaying "96" and "04" was legitimate.
I will fix this problem as soon as possible, hopefully in the next one or two days because I have to make sure that the display is good both for the image and the applet.
---
---
Contact Information | Need Help? | Frequently Asked Questions | Astrology Glossary | Sitemap | RSS Feeds

© Copyright 2014-2022, Abhilasha and Kshitij Sharma. All right reserved. Terms of Use.