Rama and Krishna are arguably the two most important heroes of Indian mythology.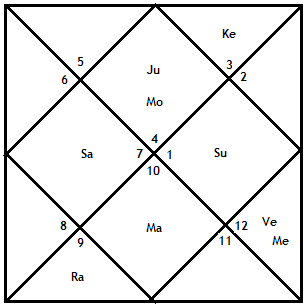 However, little effort has been made to understand the real timelines when they could have walked on this earth, in flesh and blood. I usually do not like to express my political views in this forum, but I
am sorry to note that any attempt to find the truth about these historical figures is always discouraged by the so called secularists who are sitting in the upper echelons of education system in India.
The first chart presented here is the chart of Rama. He was the seventh avatar of Vishnu and was the prince of Ayodhya. His chart has five exalted planets – four of them in Kendras. The fifth planet, Venus, is exalted in the ninth house, which is considered the most important trine. This chart has three of Pancha Mahapurusha Yogas, which I will be talking about shortly. Mercury could not have been exalted along with Sun – it cannot be more than one house away. Mercury's position is not clear. Mercury may not be in Taurus, it must have been in 9th house itself, along with Venus. Although Pisces is a debilitation sign for Mercury, it is getting a neechabhanga rajayoga by multiple means.
This is quite an extraordinary chart and probably that is the main reason why researchers have not even begun to try putting a date on it. But I think its ridiculous and if we look at dates in vicinity of 7000 BC, I am sure we would definitely find such a planetary combination.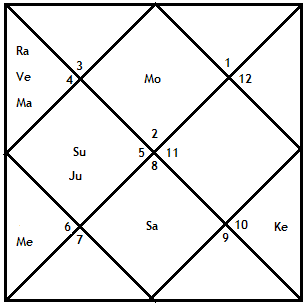 Three months back, there was an article in Outlook India based on a research paper by Mr Arun Bansal, according to which Krishna was born on July 21, 3228 BC. A link to this article can be found on this Outlook India site. The chart of Sri Krishna comes out to be as shown here. You can read the various interesting interpretations of the chart in the article – the notable one being "You have great fancy for music, moonlight and money".
Mr Bansal used a software to calculate the date and time of birth based on planetary positions, the other way around for how people use the birth chart calculation software on this website. So could he have used the software on this site? No way !! The software on my site is not that advanced. It would work well in three hundred year range up to 2100 AD. Beyond that, a lot of errors would creep in the exact positions of planets. Planets move around the sun in almost a circular path, which is purely a quadratic equation. However, these planets also exert gravitational influence on each other and thus matters become complicated. The equations in my software are also quadratic, but they make some assumptions and take care of few of these influences. These equations are then of the form longitude = at2 + bt + c, where a, b and c are pre-defined constants for a planet and t represents the Julian day. Due to the underlying assumptions, they would be useless in another hundred years or so.
PostScript as on May 4th 2012: The page on hvk.org is not available. There is an error referred to by 404, which means that the page was not found on the site. Again a travesty… If a site like HVK cannot maintain such data, then what can we say about others.