When scientists announced discovery of a planet beyond Pluto, Times of India ran an editorial describing this as a failure of modern Astrology and it not being able to keep up with changing times.
I am of an opinion that this was totally unwarranted, especially in relation with Indian Astrology. Indian Astrology was concieved and developed when none of the outer planets, i.e. Uranus, Neptune and Pluto were discovered. It has withstood the tests of times and has been working well, if the ability of the astrologer in question is not suspect. Western Astrology did try to change its workings and did associate some qualities with these planets, but Indian astrologers stuck with the list of old planets. The new research, if it happens, is also based on the knowledge that is passed on from the old sages.
The Times of India article also ridiculed the practise of associating certain qualities with Rahu and Ketu as they are not real planets but are shadowy. They exist as mathematical entities and are given importance because they are instrumental in calculating eclipses, both Solar and Lunar. It is noteworthy that in Indian mythology, Rahu and Ketu were the demons that tormented Sun and Moon and caused eclipses. Astrologically both Rahu and Ketu tend to drain energy out of all planets, especially Sun and Moon.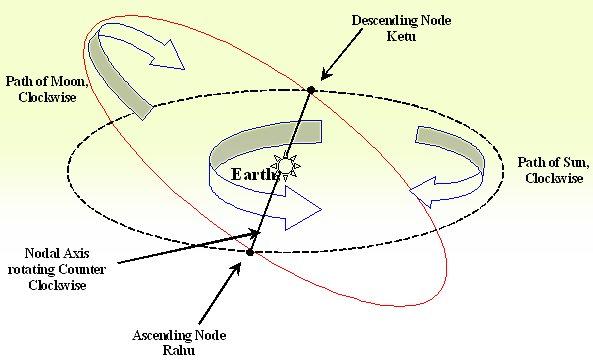 You need to understand that as an observer on Earth, calculations done in Astronomy tend to be geocentric and not heliocentric. I know that this is kind of Greek and Latin 🙂 but in layperson's language it means that although all planets revolve around Sun (heliocentric), to know the position in sky and to view them, we need to make calculations with respect to our position, which becomes geocentric. Anyway, consider the plane of orbit Sun around Earth (ok, you have been taught the other way in school, but remember, we are working in a geocentric system of coordinates). We give this plane a special name – the Ecliptic.
In the figure above, the ecliptic is denoted by the black dashed circle with Earth at the centre. The plane of orbit of the Moon is at an angle to this ecliptic. The line at which these two planes intersect is the nodal axis, Rahu at one end and Ketu at the other end. Solar eclipse occurs on a new moon day when Moon comes between Sun and Earth. For an observer on Earth, they appear at the same point in space. Lunar eclipse occurs when Earth comes between Sun and Moon, on a full moon day, i.e. all three heavenly bodies are in the same plane, with Sun and Moon being diametrically opposite each other. Mathematically speaking, during Solar eclipse, the angular distance between Sun and Moon is almost zero degrees and during Lunar eclipse, this angular distance is almost 180 degrees. The angular distance between these two can be zero and a hundred and eighty on other days, but on the day of eclipse, both of them are on Ecliptic as well.
If you want to consult an ephemeris (i.e. the chart that displays degrees of all planetary bodies) to predict an eclipse, you should remember that an eclipse occurs when Sun and Moon are conjunct and coincide with either Rahu or Ketu. Conjunction with Rahu and Ketu is important because all three bodies need to be in the same plane. Conjunction means that the degree associated with the planets is almost same. I keep saying almost because both Sun and Moon are not point objects. Even if they come close inasmuch as one disk brushing the other, an eclipse is caused. Now do you see the importance of these two shadowy planets?
The table below gives an example of the longitudes of Sun and Moon and that of Rahu and Ketu for some eclipses.
Update: August 23rd. Now that Pluto has been demoted to a category of dwarf planet, what happens to the Time of India editorial?
| | | | | | |
| --- | --- | --- | --- | --- | --- |
| Date | Eclipse Type | Sun's Longitude | Moon's Longitude | Associated Node | Comments |
| Oct 24, 1995 | Solar Eclipse | 186.5 | 186.4 | Rahu (182.82) | Sun and Moon almost coinciding and conjunct with Rahu |
| Sept 27, 1996 | Lunar eclipse | 161.03 | 348.16 | Ketu (344.3) | Difference between Sun and Moon = 187 degrees. Rahu/Ketu also conjunct |
| Feb 26, 1998 | Solar Eclipse | 313.54 | 306.1 | Rahu (316.5) | Sun and Moon almost coinciding and conjunct with Rahu |
| Oct 28, 2004 | Lunar Eclipse | 191.18 | 11.8 | Ketu (188.3) | Difference between Sun and Moon = 180 degrees. Rahu/Ketu also conjunct |