Encyclopaedia of Indian Astrology is a dictionary cum compendium for Vedic astrology terms. It comes in two volumes – volume one that includes terms from English alphabet A to L and volume two from M-Z. From whatever little I know of Indian Astrology, this is an extremely detailed book and the author has really taken pains to put together all the terms in two books. Naturally, since this are just two volumes, the author cannot go in the details, but there is good amount of explanation available for a student of astrology to start his/her research and consult other books. The information present is concise, to the point and with the right amount of detail that a reference book may have.
The author is Prof N.E. Muthuswamy, who has done exhaustive work in astrology to be known as Upakulapathi of Vedic Astrology. Readers of astrological texts in Hindi and English have not read his books much because majority of his work is in Malayalam language. He has written just one book Krishneeyam in Hindi (which too is out of print) and few books in English, but has almost 60 books in Malayalam. This includes his work on Saravali, Brihat Parashara Hora Shashtra, Savartha Chintamani, Jataktatvam and what not. Additionally, the books contain full length treatise on important subjects – lagna nirnayam, gulika, aayurdaya etc. Going through this encyclopaedia, I felt bad that I know only two languages – Hindi and English and have missed out a lot. I just hope that there are other students on astrology who can learn from Prof Muthuswamy and be able to translate the works in other languages.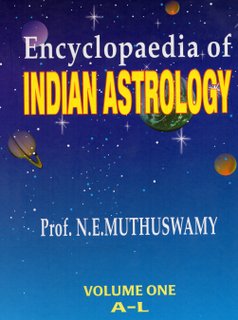 This book is not available in many places. When I put an order with Ms. Ranjan Publications, it took almost one month to arrive. It is available online in few other stores though – I have seen it in Sapna Book house in Bangalore, Indiranagar Branch – https://sapnaonline.com/ency-of-indian-astrology-set-of-2-vols-128720.
This books is not for beginners. It is for learners but definitely not for beginners. This is not the first book on Astrology that anyone should pick up. It is also an expensive book. At 1800/-, it is the most expensive book in my collection. Even in US, it sells for almost $125. But that should not discourage from you buying it and keeping it by your side at all times. This book cannot be read at one shot. It is written like a dictionary and a reference book, which makes it an extremely useful book. So, a student of astrology, who is at an early stage of learning, will be able to refer to this book for meaning and quick explanation of a term. This will unblock him/her to make further progress. Further, the beauty is that, at times, a student of astrology does not get the right meaning of a term from the context provided in text books. This book provides all the different meanings and context in one place and the student can get the exact meaning of the term.
While the book is arranged according to the terms in English alphabetical order, Hindi transliteration is available alongside the word. This helps in getting the pronunciation right for all the words.
This book is great reference. Let me take an example. One can search the word "Father" in this book. The section on father mentions that are the houses that signify father in Indian astrology. It is also provides other combinations that are relevant for father and the relationship with him – what makes a relationship with father a tough one (in this case it is lord of ascendant in a horoscope located in 9th house along with 6th house lord).
Suggestions to budding students of astrology – buy this book! Then, before starting your research on any subject, check out the definition provided by Prof Muthuswamy. Only then take the next step.s