Emerald (Panna) is the only gemstone where few blemishes are allowed. A flawless emerald may be costlier than a diamond.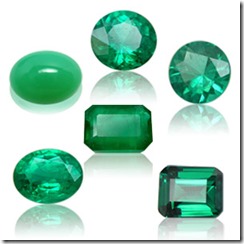 All flawless gemstones, for that matter are very costly and may not be affordable by everyone. Fortunately, all of us do not need to depend on gemstones for strengthening the planets in the horoscope. The three main ways of strengthening any planet in a kundali. In the order of priority, they are:
The first two are the sattvic ways of strengthening a planet in a kundali. Gems have ornamental value and are associated with for adornment and style. Therefore it is a rajasik way of curing a problem. If someone can, conduct and mantra are always preferred way. In any case, a gemstone should not be worn if the corresponding planet is a lord of dusthanas in the horoscope, especially if it is a lord of 6th, 8th and 12th house. Since it is important to look at the horoscope very closely before wearing a gemstone, please do not do astrological equivalent of self medication when it comes to wearing gems for astrological reasons. Let always an astrologer prescribe these to you.
Each of the planets is associated with a deity and a mantra. Worshipping to the deity with correct rituals in place is required. Let me try and summarize the three aspects here for each of the planets. If a stone is really required, I am also adding a column for a cheaper gem alternative. Please note that we always have to choose a heavier/larger stone when going for an alternative.
| | | | | |
| --- | --- | --- | --- | --- |
| Planet | Ruling Deity | Conduct (आचरण) | Gemstone | Cheaper Gem Alternative |
| Sun | Lord Shiva followed by Lord Rama, who was the Vishnu avatar born in Surya vansha | Shed the introversion, go out and meet people. Practice public speaking. Meditate and feel the inner strength. Develop confidence in ones own abilities | Ruby, 4 carats to be worn in gold | Garnet |
| Moon | Lord Shiva – Chandrashekhar, followed by Lord Krishna, who was the Vishnu avatar born in Chandra vansha | Social work and community service. Show compassion towards less privileged members of the society and work towards their betterment | Pearl, 4 carats, to be worn in silver | Not advisable |
| Mars | Lord Kartikeya, who is son of Lord Shiva and Parvati should be worshipped | To channelize Mars' energy, it is important to take up a physical activity and sport. Be competitive but not pushy. A callous and quarrelsome effect of Mars can only be subdued by self-awareness. Meditation and reflection is a must. It is necessary to ensure that caustic language is kept in check. | Red coral, to be worn in gold | Not necessary as it is easily available |
| Mercury | Worship Lord Vishnu. Chanting Vishnu sahasranaam would help immensely. | Reading and communication are very important to ensure strength of Mercury. To ensure that this is done in the right direction is to bring in religion and philosophy into the picture. The person wishing to strengthen the mercury in his/her horoscope should not only read, but also communicate to others – pravachan, religious discourse is very important. Neighbourhood satsangs are a place where Mercury is strong. | Emerald, 2 carats, to be worn in gold | Not recommended. An emerald with some flaws/inclusion can be chosen |
| Jupiter | Worship Lord Ganesh. Jupiter's influence is necessary for knowledge of Astrology and Ganesh also is the presiding deity of Astrology | The conduct to strengthen Jupiter is a combination of what we would do for Mercury and Moon. This is the right acharan demonstrated by dharmatmas and mahatmas. They take care of people. They spread the knowledge and provide wisdom. Following them would be the right conduct. | Pukhraj – Yellow sapphire. This has to be pale yellow in colour and of 2-3 carats in size and to be worn in gold. | Yellow topaz can be used. |
| Venus | Worship Goddess Lakshmi as She is the goddess of wealth. Lakshmi-ji is always worshipped with Ganesh bhagwan and Sarasvati-ji as we do during Diwali. | It is important to bring sattwik aspects to what Venus represents in a kundali. Venus is about surrounding ourselves with luxuries and excesses. This needs to be tempered. It is a little difficult, but not impossible. An artist who is devoted to his/her art would be the right role model here. Listening to classical music, where Vedic hymns are at the centre of it is required. | Diamond, 1-2 carets to be worn in gold | Clear zircon – 5+ carats |
| Saturn | The presiding deity is Bhairav, who is darker form on Lord Shiva. Worship Lord Hanuman and chant Hanuman Chalisa. This helps during Sadhe Sati also. Explanation is provided as to why worshipping Hanuman would help please Saturn. | Exercising self-control is important. Strict discipline and routine has to be cultivated. The person needs to ensure that there are no major surprises. | Blue sapphire, 2-3 carats to be worn in silver | Use an iron ring – made from kaale ghode ki naal |
| Rahu | Worship Goddess Durga. She represents strength and Shakti. Chant Durga chalisa regularly | Rahu creates smoke screens. It works like a badly placed Jupiter in a kundali (as per Astrology of the seers, David Frawley). Hence, Rahu should be treated in the same way as Jupiter. See above. | Gomed – 2-3 carats, to be worn in gold | Not necessary. Just ensure that the stone is of lighter colour rather than very dark one |
| Ketu | Another form of Lord Shiva – Rudra should be worshipped. Chant Rudrashatakam – the eight stanza poem written by Goswami Tulasidaas | Ketu is like a well placed Saturn in a horoscope. It is a Moksha karaka. A therapy for Saturn with a focus on religion and philosophy would help. | Cat's eye – 2-3 carats, to be worn in silver | Not necessary as it is easily available |