The kundali of Shri Narendra Modi taking oath as 15th Prime Minister of India at the Rashtrapati Bhavan is attached. The swearing in ceremony started just after 6:00 PM when the President of India came down the stairs. As soon as he came down, his permission to begin the ceremony was sought. Immediately after, Modi came to the stage and took the oath of office in Hindi. The basic details are:
Place: Rashtrapati Bhavan, New Delhi (28.6143° N, 77.1998° E), Time: 6:11 PM, Date: 26 May 2014. Libra lagna – Not Scorpio, lagna does not change till 6.15 PM.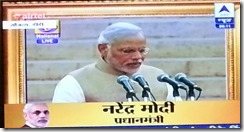 Astrologers are going to be talking about this horoscope for a long time. At the earlier declared time of 6:00 PM, it was supposed to be Libra lagna and a strong chart. However, it was 11 mins past 6 PM when Modi reached the stage. In about 4 more minutes, the lagna would change to Scorpio. I have checked this horoscope in multiple softwares and do not get one showing Scorpio Lagna.
A strong, exalted, retrograde Saturn sits in the Libra Lagna in this horoscope. It is the lord of 4th and 5th houses, associated with Lagna and will cause Rajyoga by itself. Lagna lord Venus is in 7th house aspecting its own house. The basic foundation of this chart thus is extremely strong and shows that the government will last full 5 years terms. All planets are in visible side of the horoscope – shows decisive and outgoing nature. Lord of 10th and 1st house are in 7th house making it a rajyoga.
Rahu is in lagna in this horoscope – smoke screens will be there. There will be a lot of marketing of the work done by the government. Expect this from the government to be "in your face" and very very different from the previous government. But why am I telling you this? You already know by looking at the Modi campaign.
This horoscope shows difficulty in money and growth. 2nd house lord is located in 12th house in this kundali. 11th house lord is in 8th house. Overall this is not a good sign. 7th lord is located in 12th in this kundali, another placement that may cause issues. Jupiter is in 9th house with 9th Lord. At face value, this is a good combination, but it should be noted that Jupiter is not exactly a beneficial planet for Libra lagna. It is the lord of 3rd and 6th house in this horoscope and especially 6th house that is house of enemies in Vedic astrology.
I will keep an eye on how my analysis fairs with that given by other astrological magazines and other astrologers and how I fair among them.