An example horoscope
One of my acquaintances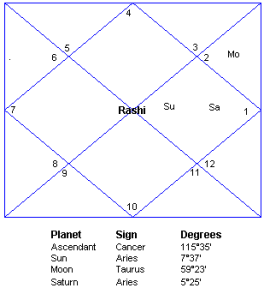 asked me to take a look at his horoscope. I am reproducing it here with only some information due to privacy concerns. I would like to get an opinion from other esteemed astrologers who frequent this website.
Saturn is debilitated in 10th house. It is not getting neechabhanga as it is combust. Moon, although in Taurus, is at the fag end of the rashi and the individual is not likely to see the effects of Moon's exaltation. Sun is exalted.
To get over his problems, what gemstone should be suggested to him? Should he rather wear a stone for Moon to bring a necessary strength to his Lagna lord? Or, should he further wear a stone to fortify the position of Sun to take care of both 2nd and 10th house. In my opinion, a pearl is more important. Sun is anyway powerful being close it its highest point of exaltation. It is always more important to strengthen the foundation of the building. In any case, it will be important for this individual to pray to Hanuman to ward off the bad effects of Shani in the 10th house.
---
---
Contact Information | Need Help? | Frequently Asked Questions | Astrology Glossary | Sitemap | RSS Feeds

© Copyright 2014-2022, Abhilasha and Kshitij Sharma. All right reserved. Terms of Use.