That Google Earth is now available for a lot of Indian cities is an old story.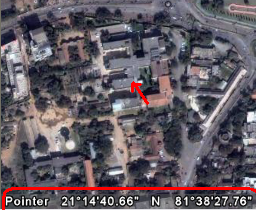 There is a fairly decent way of determining the latitude and longitude of birth using this software. Locate the building where the child was born, place the mouse over the building and note down the exact latitude and longitude. Use this value in the birth chart generator application. Google Earth gives you latitude and longitude in degrees and minutes and seconds and fractions thereof. It would not matter a lot, e.g. for me, the difference in my chart is visible only in Ascendant (Lagna) – about 4 minutes. If you take a case of a person born in Colaba, Mumbai vs that of someone born in Powai, Mumbai, the difference is about 10 minutes in the Ascendant.
For most of us, the major source of error still remains in noting down the time of birth and not in determining the exact latitude and longitude of the place of birth. So, this is something of a luxury if you have a lot of time on your hand. Otherwise, you are much better off using Astrodienst version of the world atlas.
The building shown above is, obviously 🙂 , the hospital where I was born. It was called DK Hospital in Raipur, India. It is not a hospital anymore and now houses the Mantralaya (seat of ministers) for Government of state of Chattisgarh, India.
Tags: Kundali