August month's predictions are based on the moon sign, i.e. janma rashi in your horoscope, based on the Vedic niryana system. Please do not substitute your Sun sign or a western astrology moon sign here. If you do not know your janma rashi, please refer to the kundali applet on this page.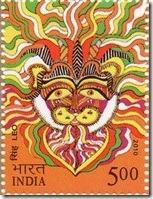 There are important long term transits going on now – Jupiter is in Cancer and is combust (powerless, lost in the rays of sun) till August 7th. Rahu/Ketu remain in Virgo/Taurus respectively. Saturn remains in the sign of Libra through the month. It came out of retrogression in the month of July. Sadhe-sati is on for Virgo, Libra and Scorpio rashis, with Saturn being in 2nd, 1st and 12th house respectively in the janma rashi chart. Effect of Rahu/Ketu transit were published here in the end of June. Please refer to the appropriate post.
Mars remains in Libra through Sept 1st week. Sun moves to swakshatra sign of Leo in the middle of August. Mercury, who is never very far from Sun, moves from Cancer to Leo on 13th August. Venus starts the month being in Gemini. By the middle of the month, Venus moves to Cancer. It will remain there till the end of month, and then moves to Leo on September 1st.
In the middle of the month, specifically on August 18th, there will be a spectacular astronomical show where Venus and Jupiter will be conjunct. The longitudinal degrees would be exactly the same and the latitudinal degrees will also be very less. Their rims will be touching each other. This will be an anshu-mardan planetary war and will be described in a separate blog post.
There are few astrological remedies mentioned in this article. For a detailed treatment of the subject and to understand the rationale behind the remedies, it is important to look at this page to understand the methods of pacifying the malefic planet. Please go through the details, especially if the remedy calls for donation of items like urad dal, iron etc. Some of the basic astrological remedies are mentioned here, but it would be good to look at this page to understand the overall remedies.
Aries
On the home front, you should be cautious. At home, you need to work hard to keep discord away and not get into an argument with the family, which is the nature of the transit results this month. You strive for seclusion, but what will help you a a real balance between being along and time spent with family. If you are a bachelor, it is good for you that you will get time for yourself and to look inward, but you are in a relationship, hard work is required.
Travel is indicated as is coming in contact foreigners for business, but there could be some discomfort during travel. Things should be planned ahead to take care of it. Take care of your eyes, health should be good otherwise. You will feel energetic in taking up sports.
In line with what was mentioned last month, due to Rahu/Ketu moving to Virgo and Pisces signs, i.e. 6th and 12th house in your rashi kundali, you may feel a little low on self confidence, energy and bogged down by competition. This is not permanent and your enthusiasm should come back. There is still ambiguity at place of work, but you should be able to solve it with tack and diplomacy and especially when dealing with colleagues. Real estate transactions could cause some worries and stress.
Remedy: Donate black whole urad dal and iron utensils. Worship Lord Shiva followed by Lord Rama.
---
Taurus
This is for the persons having their moon in Taurus sign in their horoscope. Conflict with siblings is indicated especially for first half of the month. Communication with them is very important. If you have kids, time spent with them will continue to be good and fulfilling. There is nothing of significance indicated for other family members and life will go on smoothly there.
Physical health would be good barring small ailments like indigestion, minor infections etc. Stress at work would bother you more than physical ailments. Take things in your stride and learn to lower the stress level.It will help in long run.
There are many forces at play at work. You would do well as far as projecting yourself is concerned. You have the eye of the superiors, but it would also turn into a spotlight and you are in for some load of responsibility. It will increase work pressure and will further add to stress. It can be brought under control with some smart work and smart communication and aligning with your superiors. Communication is your power this month, which you need to make use of. Finance will continue to be under stress due to expenses and unnecessary speculation.
Remedy: Worship Lord Ganesha and Vishnu and Goddess Durga.
---
Gemini
This is for the persons having their Moon in Gemini sign in their horoscope. Jupiter's favourable transit through Cancer is helping all the Gemini rashi folks on home and family front. Enjoy this time with immediate family, partner/spouse/mate. Other planets will cause a communication gap and discord outside of this zone of family. Emotions are delicate and confusion can be created. Reach out to your parents and ensure that they are doing well, healthwise as well.
Physical health would be good barring small ailments like eye/ENT infections. To take care of mental worries, meditation is required. Travels are indicated during this month due to planetary transits, but long distance travel could wear you out.
You will continue to see inflow of funds. Expansion of financial portfolio is indicated, but need to tread with caution as far as speculation is concerned. Same prudence is required at place of work and you need to avoid taking unnecessary risks with money, people and situations.
Remedy: Worship Lord Shiva followed by Lord Rama.
---
Cancer
This is for the persons having their Moon in Cancer sign in their horoscope. Things are different on family front as you need to spend time on yourself rather than take care of others, including immediate family members, friends and relative. You will tend to neglect family members and get into arguments with people outside family. This could cause a bit of stress, but can also be brought under control through awareness of the situation.
On travel, things are constant due to long term transits, there is a possibility of change of place, but think it through and do not get into unnecessary troubles.
Eye, ENT issues could bother you. I already mentioned the stress/anxiety part, that could be because of people issues and you should be careful and aware not to hurt them. Stomach trouble is indicated.
This is an on-going year of growth for you where you will have the necessary will power to succeed. You should keep your ambitions in check and under wraps at the place of work. Hard work will pay off well. You need to careful with lending and investing money as recovery of investment could be a problem.
Remedy: Donate black whole urad dal and iron utensils. Worship Lord Ganesha and Vishnu daily. No change in this advice from last month.
---
Leo
This is for the persons having their Moon in Leo sign in their horoscope. Sun in 12th house and 1st transit will bring in some worries on account of family.
Transit of Jupiter through Cancer will continue to be difficult time for Leo rashi persons. It will affect on account of travel, where a separation from family and loved ones is shown. Short term travel would be good though and you will get to learn something new and benefit you.
On the health front, try to get some good rest this month, as it may be difficult to come by. If your schedule allows, go for full health check up.
Finances would still be tight and there would be unnecessary expenses. Be careful on who and what you are spending money on.
Remedy: Worship Goddess Durga.
---
Virgo
You are going through sadhe-sati during this period, with Saturn being in 2nd house in your rashi kundali. You should be aware of how you are communicating with others and keep a check on tone, tenor and emotions. Stay focussed as thoughtless speech may cause strife in domestic life. Long term transit of Rahu will give you the necessary confidence (and maybe arrogance) to take you through your circle of friends. The only advice – enjoy the time, but be grounded. Be kind to others and do not get caught up in emotions.
Business transactions with foreigners will be fruitful, but at the same time, unplanned travel will not yield desired results.
Health will be good during the month. Anxiety at place of work would bother you a bit, but you will also be able to handle it well.
You will work well with partners and other team members. Work hard to gain their respect and you will stand out of the group as a leader. Your intuition while working with others and ability to guess what they are really trying to say will work in your favour. If there is a problem with 6th house in your birth horoscopes, fear from lawsuits is indicated. Do not let your reputation get tarnished.
Remedy: Respect your elders. Donate iron utensils. Chant Gayatri Mantra and worship Lord Shiva daily.
---
Libra
You are going through sadhe-sati during this period, with Saturn being in 1st house in your rashi kundali. There are lot of expectations and subsequently responsibilities on your shoulder. There could be difficult times in family till the mid of the month. Focus on self improvement and this inward focus should help. Meditation is the need of the hour. If you treat coworkers, neighbours, relatives well, they will support you and there will generally be comfort. Avoid dominating any situation, although that's the tendency that you will continue to have. 1st half of the month would help you gain reputation at place of work.
Health will remain good throughout the month. You will feel little short of energy, but there will be sufficient motivation to pull yourself up.
Hard work will pay off. This is the path to success on both financial and job front. You will continuously be seen as being capable and hence more responsibility will come your way. Government of the day and superiors will be good to you and will keep you in focus. New ventures and new projects should be taken up, provided you did your due diligence as per this astrologer's advice last month.
Remedy: Respect your elders. Donate iron utensils. Worship Goddess Lakshmi.
---
Scorpio
The good effects of Jupiter transiting through Cancer will be showing up now and will keep helping the persons that have their moon in Scorpio in the janma rashi horoscope. This will help with domestic family life, gains with foreign travel and overall increase in prestige, money and wealth. The first week of August will be a little difficult, but things will improve from there on. There is sadhe sati affecting you negatively during the first phase. Work hard on the relationship with the spouse/partner.
Good time for travel – you will be able to learn from meeting other people and communicating with them. Long distance travel is indicated too.
On the health front, you will need to be careful eyes, ENT infections. Physical health is good otherwise.
Remedy: Respect your elders. Donate iron utensils and black gram (urad).
---
Sagittarius
Good time will be spent with family and you will see a lot of support from them. You will be able to take care of your family and vice versa will also happen.
Frequent travel is indicated, but it will be quite hectic and tiring. It may cause fatigue. Short visits to far away places usually are tiring.
First half of the month will indicate some displeasure from government of the day and superiors. You may get into an argument with your boss, which is best to avoid now. If the boss is on the wrong side, make note of the situation and move on. Next month would be a better month to deal with the situation. Those dealing in property, land will find it a favourable time. Cash flow is stable and hard will continue to pay off.
During the latter part of the month, you will have a tendency to miss appointments, forget day to day things. You have your eye on the big picture rather than mundane, on the ground things.
Remedy: Worship the trio of Lakshmi, Ganesh and Sarasvati regularly.
---
Capricorn
It will overall be a difficult month for Capricorn rashi. You need to take care of family to ensure that there is domestic happiness. Tendency is to argue and prove your point, but that has not got anyone ahead in life. Please remember this throughout the month. Explain important things to people, even if you have to repeat yourself. Communication is extremely important. Isolating yourself from any situation will not be helpful.
Travel is indicated – either for religious reasons or for business transactions.
The transits will encourage you to take risk to promote yourself at the place of work. Go for it as long as you take care of the communication part of it. If you can keep peers at work in good humour, this will be a fulfilling month. As long as you are are aware, recognize the need of others and do not take shortcuts around them, they will support you.
Eat well, eat healthy to avoid stomach troubles.
Remedy: Worship Goddess Durga. She represents strength and Shakti. Chant Durga chalisa regularly.
---
Aquarius
The first part of month would be a good one for Aquarius rashi persons. There will be comforts of home. In the second half, your spouse or partners will need support and help and you need to be there to help them. The second part of the month will be harder the first.
Long distance travel will bring luck. Plan well in advance to make good use of it.
Health will be good through the month. The weather is such that we are all prone to infections, viral fever, cough and cold, but then this should be the extent of discomfort for you.
At work, you will be in your elements during the 1st half of the month, completing your projects, charming your superiors and having good relations with subordinates. You will be involved in team events with your peers. Taking care of people who provide services will go good and will bring in mental satisfaction. During the second half of the month, things would be a little stressful with superiors. However, you should be able to use your friends circle and peer network to cross these hurdles.
Remedy: Worship Goddess Durga. She represents strength and Shakti. Chant Durga chalisa regularly. Vishnu Puran and worship of Lord Rama will also help.
---
Pisces
The persons with Moon in Pisces in their rashi kundali need to spend time with their children this month and take care of their well being. The result of these interactions will result in lot of happiness at home. It will also help improve communication between spouses.
Consume food outside with caution as you would be prone to food poisoning. The second part of the month will be good for health.
There will be creative thinking and ideas will flow. Spend time for a new project, idea or thought process. Those in areas of entertainment, media, marketing will be benefited. Second part of the month will bring in status in the professional life. It will also show favours from government and superiors. This is a time when you need to be self reliant and strong by yourself. Do not depend on others and do not expect a lot of help from them as well.
Remedy: Respect the elders. Hanuman Chalisa needs to be chanted daily. Visiting Shani temple on Saturdays will definitely help. Worship Lord Kartikeya. Install his photo/idol in your home and worship Him regularly.
---