Please refer to my article on India stock market in the month of January where I had mentioned that the honeymoon period for Narendra Modi government is pretty much over and there will be lot of street protests eroding the support that the government has created over the period of 8 months. This prediction was made by interpreting the overall mundane astrology chart and not by interpreting horoscope of any important leader. I tried getting the horoscope of Mr. Kejariwal, Ms. Bedi and Mr. Modi, but have not been able to get any reliable charts. Hence any interpretation based on the horoscopes floating around in the internet will only be fraught with errors and is not worth the effort.
Aam Aadmi Party is rank outsider in Indian polity. It cannot be associated with any of old and new political parties of India. None of its members have been associated with either Bhartiya Janata Party or Congress or any of the thousand parties in India. Hence the problems associated with the political class as far as mundane astrology is concerned are not applicable to them. They will benefit from the wave in their favour and will forever be a thorn in BJP's side, in their own backyard. This will be a proof that Modi's popularity has reached a peak. It may not go down from here, but has definitely reached a plateau.
Please refer to this article in Economic Times today – AAP win in Delhi polls may lead to selloff even though correction may not be too deep, say players. Quoting from the article without permission, but full acknowledgement:
BJP's seeming nervousness over the outcome of the upcoming Delhi elections is rubbing off on Dalal Street too. Though the state's election result is seen having little impact on the political equations nationally, brokers and analysts said an Aam Aadmi Party (AAP) victory over Bharatiya Janata Party (BJP) may not go down well with the market.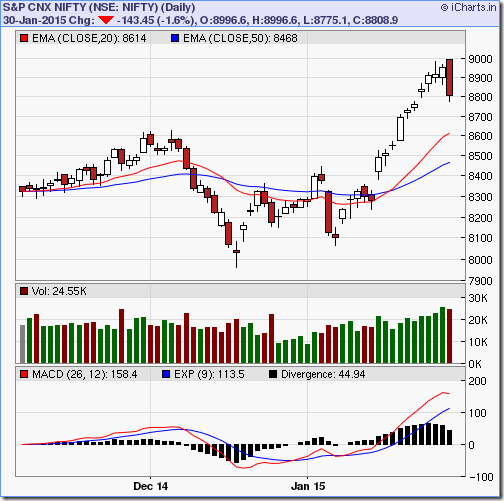 Now coming to the other prediction about common sense not being applicable in the market, please look at the attached chart, reproduced from iCharts.in website. This is again with full acknowledgement, but without permission.
Huge sell on Jan 6th, a gap up opening on Jan 15th, a rally due to rate cuts on Jan 20th and multiple Doji and spinning top patterns indicate that there is nervousness and indecision in the market. Finally markets closed in red on the last day of Jan 2015. This is completely inline with the financial astrology predictions made for Jan 2015 here.
Traders should keep a close watch on the markets this week. A correction is expected on Thursday 6th February 2015. Should AAP win the day on 8th Feb, expect more correction in 2nd week of February. Still, the view of the market in February is positive and there will be sector wise uptrends in the market. For details, please take a look at the article on financial astrology here.