Shri Nitish Kumar was sworn in as Chief Minister of Bihar for the fourth time on 22-Feb-2015 at 17:00 PM in Patna, Bihar. This was necessitated by his party-mate Shri Jitan Manjhi resigning from the post. The source of the time of swearing in is this Twitter photo from ANI news.
Mr. Nitish Kumar has always been considered a good chief minister. He was a chief minister of Bihar from 2005 to 2014. Under his leadership, the impoverished state of Bihar developed and even if you consider the low developmental base of Bihar, it did well on percentage growth part. However, his record was not enough to stop Narendra Modi wave in Bihar and his party, along with other allies took some serious drubbing.  On May 17, 2014 he resigned, taking moral responsibility for his party's poor performance in the 2014 general elections. He returned as chief minister on 22nd February.
Lets understand the panchanga of the date. The day of the week was Sunday. At the time of swearing in, Panchami tithi was running. The nakshatra was Revati, Shukla yoga and Bav Karana. In my recommendation for the day, I had mentioned that the day should be avoided for any auspicious activities, till late afternoon. However at 5:00 PM, these apprehensions are gone.
Revati nakshatra is Mridu nakshtra and is appropriate for this activity. The other 4 parts are also good and hence by panchanga shuddhi principles, it works well for the day. This is the chart of the time of the ceremony, with a well chosen Karka Lagna rising. This is something that I find very interesting in every horoscope that it seems checked with an astrologer. Can't be mere coincidence. With all the rationality going around in our country, all important decisions regarding timing are vetted by an astrologer.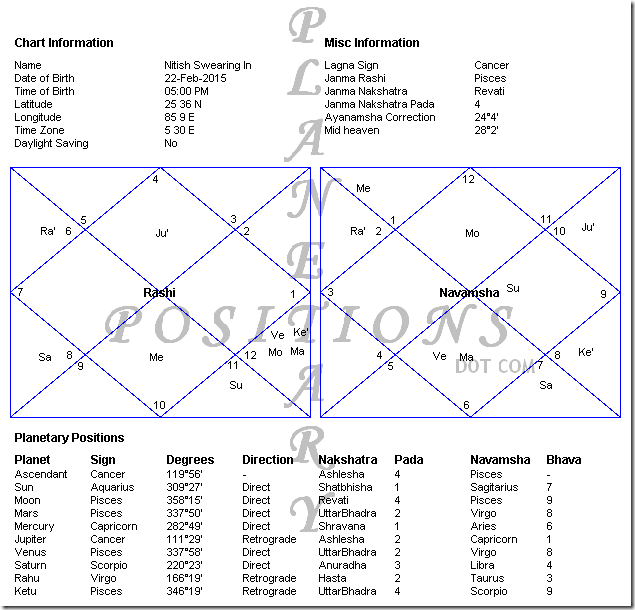 The tenure of the current Legislative Assembly of Bihar expires on November 29, 2015. Therefore, the current tenure of Shri Nitish Kumar is pretty much inconsequential. No development work can and will happen in the next 8 months before Election Commission of India starts the process of elections. All he is going to do is to consolidate his party's numbers by November and then get into election mode. Hence a lot of analysis need not be done for this chart.
This chart has some obvious good points – Jupiter, although retrograde, is sitting in Lagna and Venus is exalted in 9th house, with further 9th house drishti of Jupiter in it. The lord of the lagna is almost out of Pisces, but this is not a position of weakness, since mathematically, these very degrees in Pisces mean that the planet located here is vargottama wrt. navamsha position. Hence this chart has powerful 1st and 9th houses. This indicates that there will be goodwill from past terms that will work with Mr. Nitish.
Since the longevity of this session itself is not much, it does not matter that 8th house is afflicted due to Sun's location, which is lord of maraka 2nd house also. 5th house is also afflicted, due to Saturn, which is 8th lord at the same time and hence a malefic for Cancer Lagna. Mercury, which is a rank malefic for Cancer lagna is located in 7th house. Its effect on 7th house as well as lagna is an interesting aspect. The partnership house is afflicted. This government may have problems with allies soon enough.