BJP Chief Ministers Swearing In Charts
The two BJP chief ministers of Haryana and Maharashtra were sworn in this week. Oct/Nov is not a good time for new governments coming in since Venus & Saturn are combust throughout – but government formation cannot be in limbo just to wait for a good/auspicious timing. In the given circumstances, the astrologers have done a reasonable job in pegging the muhurta. The details are as follows:
Shri Manohar Lal Khattar was sworn in on:
Shri Devendra Fadnavis was sworn in on
The two charts are presented below and are described in brief.
Chart 1: Shri Manohal Lal Khattar Swearing In Horoscope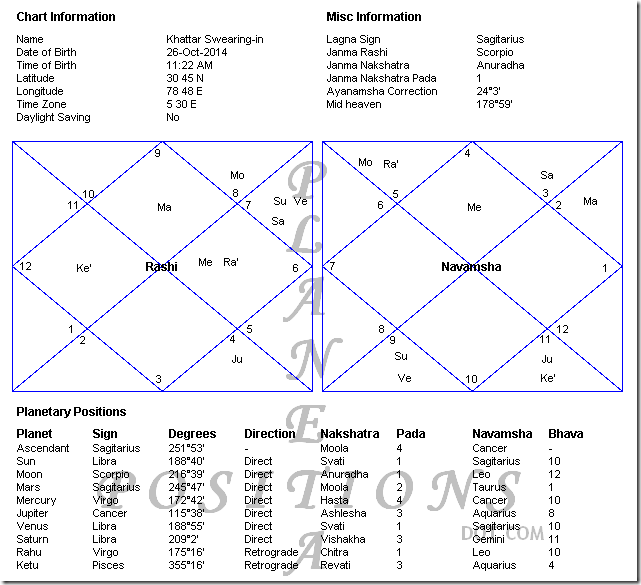 The significant planetary positions in this horoscope are:
Lagna Lord Jupiter is in 8th house in exaltation. It comes under aspect from both Mars & Ketu, but it should be noted that both these planets are located in Jupiter's house itself. Hence it is a good position. As per mundane astrology, this is a good position for Jupiter as it will ensure that Mr. CM will enjoy the confidence of the cabinet throughout.
Mars is in Lagna and denotes aggression and my way or the highway attitude by this government.
6th and 11th house lord Venus is in its own sign, although combust. This is the best position possible in the given circumstances.
Saturn, the planet denoting masses & democracy is in exaltation, although almost out of the sign and hence not that powerful.
9th Lord Sun is debilitated in 11th house. Negative for finances.
One of the major negatives that I see is that 10th Lord Mercury, although placed in its own house is almost conjunct with Rahu and is under malefic influence of Ra/Ke. This indicates that the work and achievements of this government will always be in question.
Chart 2: Shri Devendra Fadnavis Swearing In Horoscope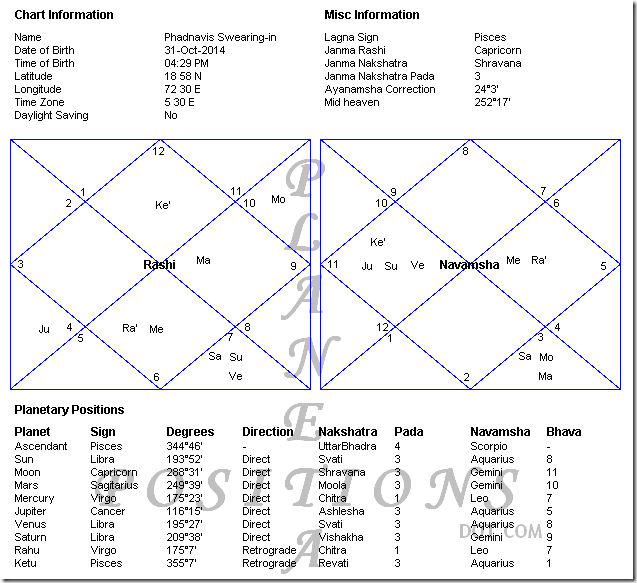 The significant planetary positions in this horoscope are:
Rahu placed in 7th house in the horoscope and almost conjunct with its lord. I do not need to elucidate what this means wrt political plots, partners etc. The situation with Shiv Sena will not improve even though Shri Udhdhav Thackrey has attended the swearing in.
Lagna lord is exalted in 5th house – quite auspicious.
3rd and 8th Lord is combust and placed in its own house and 6th Lord is in 8th house.
This is a reasonable horoscope if pegged from Moon. Sun comes to 10th house and gets a powerful neechabhanga, which is good, but then Sun has a taint of 8th lordship. Jupiter is in 4th, which means Mr. CM will be able to put balm partners will eventually come through. 5th and 10th Lord Venus is conjunct with Sun.
---
---
Contact Information | Need Help? | Frequently Asked Questions | Astrology Glossary | Sitemap | RSS Feeds

© Copyright 2014-2022, Abhilasha and Kshitij Sharma. All right reserved. Terms of Use.