Saturn and Sun are in opposition now. As of May 10th 2014 afternoon, Saturn is at 25Li57 and Sun is at 25Ar55, which is almost 180° apart from each other. This is pretty interesting time for astrologers as this means that both Sun and Saturn are exalted.
This isn't a very good combination in a horoscope though as Sun and Saturn are natural enemies and both are poles apart in their qualities. Whichever lagna the birth occurs in, they will keep opposing each other in the horoscope along the Aries/Libra axis. They will oppose each other through the self/spouse (1st vs. 7th house), family/melancholy (2nd vs. 8th house), hard work through own means vs. luck factor (3rd vs. 9th house) in the horoscope. It is like saying in Hindi, एक म्यान में दो तलवारें नहीं रह सकतीं.
Lord Shri Ram had this combination in his horoscope– Saturn being in 4th house and Sun in 10th house in His janma kundali.
Saturn is retrograde during this period. Saturn remains retrograde from 2nd March 2014 through 21st July 2014.
As they are in exact opposition, it means that Saturn rises when Sun sets and pretty much remains visible throughout the night. Astronomers will have a good time watching the planet now. Check this site out http://www.astronomy.com/observing/sky-events/2014/05/saturn-shines-brightest-in-may that says:
Opposition marks the peak time for observing any outer planet. Not only does a distant world then remain visible all night and shine brightest, but it also appears largest through a telescope.
On June 06, 2012, in a very rare astronomical phenomenon, Venus will move across the disk of Sun and can be seen as a black spot if viewed properly through a telescope. It will be visible in India as per this map from NASA. It is a rare phenomenon because the frequency is very low and although the last transit happened in 2004, the next one would happen only in 22nd century – on 11th Dec 2117 to be precise.
The horoscope of Lord Rama is presented in the article on Rama and Krishna. According to Ramayana, the date of birth of Rama is the Shukla Paksha Navami of Chaitra Masa. Unfortunately, there is no mention of any year or a reference to a date in present time through which an unambiguous claim can be made. Even more unfortunately, unambiguous in Kaliyuga means a reference to dates within the western calendar.
Rama and Krishna are arguably the two most important heroes of Indian mythology.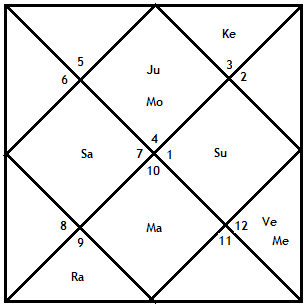 However, little effort has been made to understand the real timelines when they could have walked on this earth, in flesh and blood. I usually do not like to express my political views in this forum, but I  Continue reading
In this article, I would like to point out certain differences that exist between the two systems – Vedic and Western Astrology. I will not comment on Chinese system of Astrology, because there is nothing to compare. It is so different from others that any attempt would be futile.
Zodiac Signs: Both Vedic and Western Astrology systems work on 12 signs from Aries to Pisces.
When scientists announced discovery of a planet beyond Pluto, Times of India ran an editorial describing this as a failure of modern Astrology and it not being able to keep up with changing times.