Horoscope Astrology Software Security Warning
Hello Readers,
The java based astrology software that is installed on this site is not working for newer versions of java. It is giving some arbitrary security warning and the java installation on newer computers does not allow it to run. As a result, many of the visitors on this site are unable to generate horoscope and utilize kundali matching services. Please let me know if that is indeed the case.
I did some research and found that this is because of newer security model and Oracle/Sun wants the java application to be certified by an authority that the application is indeed genuine and does not pose any risk to the system. Well, I can assure you that the only thing that is happening here is that I am using this application to generate horoscope, compatibility and panchanga. I am not doing anything out of ordinary here and not accessing any of your system resources. I cannot get this applet signed because this costs about ₹12000 or $200 a year, which I cannot afford.
I am trying to fix this problem with doing a lot of computation in the backend. Till that happens, I request you to accept the warning and run.
Thanks!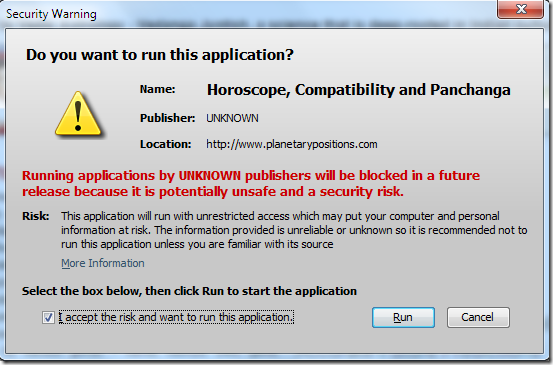 ---
---
Contact Information | Need Help? | Frequently Asked Questions | Astrology Glossary | Sitemap | RSS Feeds

© Copyright 2014-2022, Abhilasha and Kshitij Sharma. All right reserved. Terms of Use.