Monthly Newsletter
Abhilasha, who keeps looking out for various ways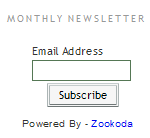 to improve this site, pointed me to this site that provides a way for bloggers to send out periodic emails about their blog to subscribers. I have integrated it with the rss feed of this website.
Please use the small form on the right sidebar to subscribe. For those who are afraid of spam hitting them, please be assured that I have no intention of using these email addresses to send unsolicited emails and I am assured that neither will this site Zookoda do anything like this.
On 15th of every month, if there are any new posts, an email will get sent to all subscribers from newsletter [at] planetarypositions dot com. There would be an "unsubscribe" link at the bottom of the email, which will provide a mechanism to opt out. If you do not want to wait for the next newsletter, just drop me a line or use the comment field on any of the posts.
---
---
Contact Information | Need Help? | Frequently Asked Questions | Astrology Glossary | Sitemap | RSS Feeds

© Copyright 2014-2022, Abhilasha and Kshitij Sharma. All right reserved. Terms of Use.