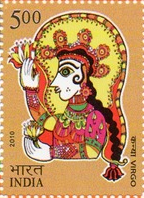 September 2014 month's predictions are based on the moon sign, i.e. janma rashi in your horoscope, based on the Vedic niryana system. Please do not substitute your Sun sign or a western astrology moon sign here. If you do not know your janma rashi, please refer to the kundali applet on this page.
Jupiter remains in Cancer and came out of combustion (udit) for the month. Rahu/Ketu remain in Virgo/Taurus respectively. Saturn remains in the sign of Libra through the month. Sadhe-sati is on for Virgo, Libra and Scorpio rashis, with Saturn being in 2nd, 1st and 12th house respectively in the janma rashi chart. Mars is in Libra at the beginning of the month. It moves to swakshetra Scorpio in Sept 1st week itself and that's the transit results it would give. The quick transits of Moon, Venus, Mercury and specific auspicious/inauspicious dates on weekly basis will be detailed very quickly in a weekly predictions page. I am still working on it.
Along with the predictions, please refer to weekly panchanga page for daily auspicious times.
---
Aries : Moon in Mesha Rashi in horoscope
You are in a bit of bother with respect to the family. While you are being demanded time and there is expectation to spend some time with your family, your mind is wandering off to spending time alone and getting some answers for your own. You need to bring closure of whatever is bothering you. If you are able to do that, you will realize that the atmosphere at home and work will suddenly become much better. Take care of your mother as well.
You need to plan your travels well if you need to get something out of them, especially businesswise. Stick to the travel agenda and ensure that you stick to it.
Whether it is the weather or eating habits or the transits, you are likely to catch cold, stomach troubles, food poisoning etc. Mental peace will come through yoga and meditation.
This is not a good time to take loans, but is an excellent time to pay them off. As you are in a state of confusion and need time alone, you are not working well at work. You need to strike a balance at work. Ambiguity at work remains, if you are in a management role. The second part of the month will give better results at work, ensuring that the efforts put during the first part of the month pay off.
Remedies for the month:
1. Worship Lord Rama & Lord Kartikeya.
2. Donate jaggary & wheat to a temple or a priest
---
Taurus : Moon in Vrishabh Rashi in horoscope
Spending time with family, keeping your emotion and speech in check will be the key in the month. You need to go the extra mile to cooperate with your family and friends. Awareness is important. You will have the necessary strength to be disciplined, maintain focus. Time spent with children will be immediately rewarded. Take care of health of others in your family.
There are obstacles indicated during travel. You might take longer journeys without your family. Journeys to foreign lands will be fruitful, and why they will tire you out, you will be able to accomplish the tasks.
Indigestion, fever could bother you.
At work, you will be creative in working as well as in the self promotion. However, do not overdo it to get into trouble with your friends. It will be wise not to create competitors out of peers. This remains a good time for investment, but with lot of caution. Speculation will not work out.  Opportunity will present itself for purchase of land.
Remedies for the month:
1. Donate sweat roti/bread to a bramhachari priest on Tuesday afternoon.
2. Worship Lord Ganesha continuously through the year
---
Gemini : Moon in Mithuna Rashi in horoscope
You are in for a good month! Those not married can look forward to meeting someone special. Those married can expect to spend good time with their spouse. Birth of children in household adding to the pleasures of family can be expected. You will have a good time with your friends and extended family.
Short term business and pleasure trips are indicated.
You will enjoy good health during this transit. Recovery from existing disease is indicated.
This is a good time to work with superiors and to gain some visibility with executives. Work towards your promotion. Disputes will be solved in your favour. Money position will continue to be strong. While you are enjoying a good time, do not overdo it. You could feed some financial stress for property and real estate transactions.
Remedies for the month:
1. Worship Goddess Durga. Chant Hanuman Chalisa daily. This should be done for a long time. It will really help
---
Cancer : Moon in Karka Rashi in horoscope
You should work towards improving the atmosphere at home. Children and spouse need your time and attention. Outside of immediate family, this is a good time to work out misunderstandings. Again, the focus is on yourself and your own needs, which needs to be balanced appropriately. Things will improve at home during the second half.
You could be seriously thinking of a change in place or are in the middle of one. This should be thought through. Short term travels are good and fruitful.
The health is good during this month. Illnesses related to ENT issues or mouth are the ones that will cause some discomfort, but thats about it. Be careful for the diet and things will be good.
Check the weekly panchanga on this site before lending money as recovery could be a problem. Unnecessary speculation should be avoided. Gambling, taking bets and unnecessary risks at work will not suit you during the month. What is will work for sure is hard work and perseverance. Stay safe and play by the rules and you will sail through. This will pay off during the second half of the month as your superiors will take notice of your hard work.
Remedies for the month:
1. Worship Lord Ganesha and donate chana dal to a temple on Thursdays
2. Worship Lord Hanuman and Kartikeya.
---
Leo : Moon in Simha Rashi in horoscope
Be diplomatic both at work and at home. Tendency is to ignore the family, co-workers. Relations could be strained with parents. Communicate well. This is a good time to be with family overall. The above issues will be sorted out quickly. Be careful with new acquaintances made during this month.
Short journeys are indicated, but there would be worries on their account.
You have a tendency to catch cold. Be careful with eating habits otherwise you could suffer from stomach problems, abdominal disorders, indigestion.
If you communicate well at work, you will be able to solve issues with your peers and take care of any opposition/competitors. Ensure paperwork is proper before entering into any agreement, especially when it comes to property/land dealings.
Remedies for the month:
1. Worship Lord Rama & Lord Hanuman.
2. Donate jaggary & wheat to a temple or a priest
---
Virgo : Moon in Kanya Rashi in horoscope
This month is about your family and loved ones and indicates that you will spend some good amount of time with them. There is wedding/commitment in the air. Sadhe sati is going on for you and you need to keep a check on your attitude towards immediate and extended family.
Short journeys will help in learning and education. They will also help in building professional network.
Be careful of eye afflictions and stomach problems. This is a good time to enrol in yoga and gym and start the exercise routine.
This is a good time at work, profession. It is also good for students. There are some pockets where you will face problems with superiors, but overall you have the ability to pull yourself through. You are full of courage and have ability to take risks. Immovable property at a good profit can be sold. Be careful with paternal property.
Remedies for this month:
1. Worship Lord Vishnu and recite Harivansha Puran
2. Donate jaggary & wheat to a temple or a priest
---
Libra : Moon in Tula Rashi in horoscope
You will make good new friends and will be able to get help and favours from older ones. Domestic life will be happy. Do not become slaves to your emotions. You can do so by avoiding unnecessary arguments with the family. Be calm and composed. Focus on self improvement.
Short travels will keep happening.
Physical health would be good with cough/cold that could bother you. You could have work related anxiety.
The first half of the month will be good at work. There is gain in wealth, but expenditure will be high as well. Need efforts with caution to check this. You need to be careful at work in second half.
Remedies for the month:
1. Donate sweat roti/bread to a bramhachari priest on Tuesday afternoon.
2. Worship Lord Hanuman
---
Scorpio : Moon in Vrishchik Rashi in horoscope
There is a bit of push and pull as far as family, friends and overall peer network is concerned. You are attracting new acquaintances. You will be able to get support from others. At the same time, ensure that there is give and take in the relationship. Help others and you will get help from them. Although you are the favourite, the second half of the month is even better than the first one.
You will continue gaining through foreign relations and gains from travels.
You are prone to infections and injuries during this period. Need to be careful with fire, food poisoning etc.
There are obstacles at work, but partnerships and superiors will come to help. You are naturally aggressive during this period at work, but I am repeating the earlier point about give and take. Understand others persons point of view. It is a good time to earn money and to pay off debt rather than spending on something else or taking some risky bets.
Remedies for the month:
1. Donate sweat roti/bread to a bramhachari priest on Tuesday afternoon.
2. Worship Lord Hanuman
---
Sagittarius : Moon in Dhanu Rashi in horoscope
Saturn transit through 11th house is helping you through the year, till end of 2014. There is stability of earnings if you are employed and steady profits if you are a businessman. This is a good period to accumulate wealth for a long term and to build on your credibility as a responsible person.
During this month of September, Sagittarians should take care of their father. Health problems to father is expected.
You have travel on your mind and constant thought to get away form the chores and wander around. Use the opportunity to take a break and go on a vacation with your family, spouse and friends. It will certainly help you get away from worries and make you strong.
Mental worries could cause insomnia, blood pressure and other stress related ailments. Take good care of your eyes.
Expectations are running high at work and it may sometimes be difficult to meet them at the place of work. You will feel the pressure of these raised expectations. Hard work is the answer and if you work hard, out of ordinary success can be achieved.
Remedies for the month:
1. Worship Lord Brahma and Lord Ganesha. Donate Chana dal, saffron to a priest on Thursdays
---
Capricorn : Moon in Makar Rashi in horoscope
You will be able to spend some good time with your family. This is a good time spent with children. If you are not married, it is a good time to meet with someone special in life. Reach out to friends, extended family and your neighbours. Call them for parties in your place and be proactive in socialization.
Journeys will tire you out. Plan ahead.
While you will enjoy sound health, be on the look out for stress, fatigue and related lifestyle diseases. Anger should be kept under control and so will your blood pressure come down.
How you are at work depends on how well you align with your peers and superiors. The period shows propensity for both sides working out. If the alignment is not right, it will manifest as unnecessary strife and impediments. On the other hand, you will get help if you are proactive in reaching out and ensuring misunderstandings are cleared as soon as possible. Time at work will be what you make it out to be. The onus is on you to prove to your co-workers that you are the person for the job.
Remedies for the month:
1. Worship Lord Vishnu & donate wheat to a temple
---
Aquarius : Moon in Kumbha Rashi in horoscope
Throughout the month, you will feel as if you are falling out of favour everywhere, but cheer up and things will work out in your favour! Avoid unnecessary arguments and it will help at home, with relatives and at work. This is a good time for talk between partners and sort out all the differences.
Travel will help in professional life. Not much of recreation during the travels though as your mind will be focussed towards accomplishing the tasks you planned in advance.
Take care of yourself through proper eating – stomach & abdominal disorders, indigestion will bother you. You may feel fatigued.
Be frugal when it comes financial matters, taking loans etc. Businessmen should be careful in starting a new enterprise. Those employed can look for new jobs or a change of role within the organization. This transit will bring out the fighter in you.
Remedies for the month:
1. Worship Lord Ganesha and Lord Brahma
---
Pisces : Moon in Meena Rashi in horoscope
Both good and bad month for you – it will balance out. Saturn's transit indicates that overall you will not get support from others and you should not depend on others, whereas other planets help you and ensure that if take care of them, you will be able to gain from all quarters – family, superiors, subordinates etc. You can make good new friends and keep them for a long time.
Long distance travel will be fruitful and will yield desired results. You will be able to accomplish what you planned for.
Be careful with your eating habits. Be careful while exercising, walking etc. as it may cause some damage and discomfort.
First half of the month will be a good period at work. You need to be focussed and disciplined in order to gain from superiors and prevail over competitors, otherwise you will be moved around from one project to another.
Remedies the month:
1. Worship Lord Bhairav. Donate iron utensils, leather goods, urad to needy people.
---